An actor from Helsinki and a sound recordist from the Gold Coast walked onto a movie set in Glenorie and found … they both went to the same school … in Kenthurst! What are the chances? Leading lady of #1 Netflix Horror film Wyrmwood: Road of the Dead, Bianca Bradey, returned from Finland in January to make the sequel Wyrmwood: Apocalypse. And who did she find doing sound? Chris Keros, a fellow Hills Grammarian and past resident of Dural!
Bianca and Chris have a long line of movie and TV credits but to be brought back to their old stomping ground through 'a job' gave them a wonderful opportunity to connect with old friends and family in the Hills District.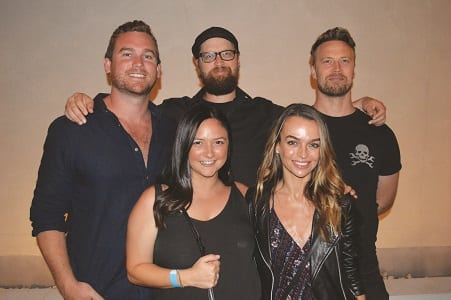 Bianca found her return to Dural and the Wyrmwood set a memorable and exhilarating experience. 'Getting the opportunity to work with all these brilliant filmmakers is something I am forever grateful for! I remember sitting in a cafe in Helsinki reading it, and thinking 'wow..this is going to be amazing'. And I love where they have taken my character Brooke. There is something very beautiful when life comes back full circle. The first Wyrmwood began shooting 10 years ago, and my time on the film was one of the best experiences I've ever had. When I first arrived in Helsinki 18 months ago I was cast in a Finnish TV series "Keihäsmatkat", a comedy/drama about an airline set in the 1970's. I was playing a Spanish prostitute, so my poorly pronounced Finnish was a plus!'
Director, Kiah Roache-Turner, was thrilled to have found the ideal filming location in Glenorie, "We had looked all over Australia, trying to find the perfect place to shoot our little zombie epic, but nothing came close to the perfection we encountered in Glenorie. Not only were we able to set up an entire Studio Basecamp at Nicholson Fruits, which included multiple indoor studio spaces and access to beautiful bushland, but the local area provided us with every external location we needed within quick walking distance of our sets.
There was great accommodation at Ingenia Holidays for our entire cast and crew just 20 minutes from where we were shooting. The locals are lovely and I'd be lying if I said having Glenorie Pies sitting just down the road didn't have something to do with our final decision!
"This area is an absolute dream for anyone looking to shoot a feature film in the Sydney area – I would recommend it to any fellow filmmakers in a second"
The Golden Years of Glenorie does have a certain ring to it!