By Lawrence Machado
Australia's first women's rally champion, Molly Taylor, is used to setting the pace and turning heads in what is still a maledominated sport. The Arcadia local broke the barriers being the first woman and youngest driver to win the Australian Rally Championship in 2016, aged 28.
The Subaru driver lived life on the edge in Seven's exciting reality show, SAS Australia, which exposed the 17 competitors to brutal physical challenges. Taylor's competitors included swim ace James Magnussen, Ironwoman Candice Warner, rugby's Nick 'Honey Badger' Cummins, cricket great Mitchell Johnson and comedian Merrick Watts.
Taylor's endurance and fortitude is remarkable and the 32-year-old impressed even hardened SAS veterans, who called her effort at completing the rope challenge over a steep drop, "outstanding and the first woman to finish this course".
"It was an incredible experience and it was the hardest I've done," Molly Taylor told Hills To Hawkesbury Community News.
"It is a once-in-a-lifetime experience.
"It was pretty brutal but I learnt a lot which I can use in life.
"For me, it was just pushing myself and getting out of my comfort zone, learning things about myself I didn't know about.
"What was most challenging was jumping out of a chopper and swimming in a lake during winter. A lot of us got hypothermia.
"The camaraderie was amazing, everyone suffered so much and it made us stronger together; there was no competition at all, it was just awesome."
Fittingly, Molly Taylor watched two of the episodes with her parents, Mark and Carol, at their Arcadia home.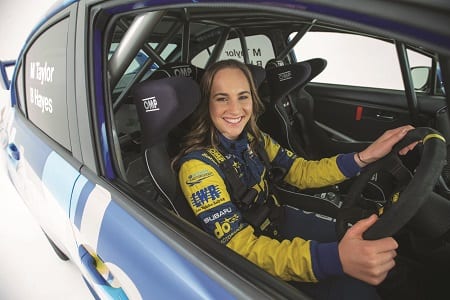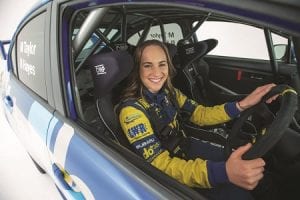 Being the daughter of Mark and Coral – a four time champion herself – Taylor was destined to be a whiz behind the wheel, learning her skills at her Dad's rally school.
Growing up with her parents made Molly Taylor believe there was nothing different about a woman taking to the exciting sport where speeds can go up to 210 kph.
"I loved seeing Mum in action," Taylor said. "I tell the young girls it is okay to be rally drivers.
"I know I am privileged to be in this sport and to be able to break down barriers.
"My biggest buzz in rallying is the challenge and adrenaline I get from it – you can't compare anything with it!"
Taylor has a swag of titles and awards on the Australian and European circuits, winning the first FIA European Ladies Rally Championships in 2013 and competing in the World Rally Championship.
"It's a male-dominated sport and sometimes that can be a bit of a challenge like when you are young and someone would say 'you don't want to be beaten by a girl'," the Peter Brock medallist said. "I use it as a motivation."
Taylor, who is also a part of the Australia Road Safety Foundation, will compete at the Netier National Capital Rally in Canberra slated for November 27-29.