By Maryanne Wilford
RATED 4.5 | TIME 2-2.5HRS RETURN
This walk starts on the eastern side of the ferry. Follow the road to the northern end. There you'll find a small car park. The car park only holds about eight cars, so pick your times on the weekend as it is a popular spot.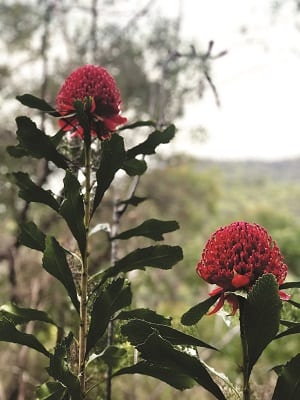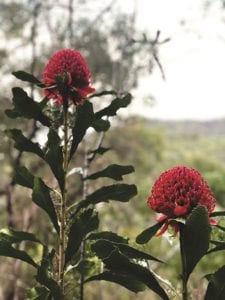 From the car park continue north. The track undulates up and down beside the river. Be careful as some of the track can be quite narrow due to erosion. In 500metres you'll come to a set of steel stairs climbing up.
I'm going to divide the walk into two climbs. You may choose only to walk one climb, and as you get fitter, you can extend your walk to take in the 2nd climb.
The first climb starts with about 20 steel stairs and then zigzags 112 m up. It is well defined made up of stone steps and rocks with stepped cut into them.
Here you may see some Waratahs. They are sighted for only about two weeks in Spring, but I have walked this track for 12 years and have only been lucky enough to see them in bloom once which was last year in September.
At the top of this climb, there is a large rock ledge to rest and get your breath. Take in the beautiful views of Berowra Waters and the ferry crossing.
From here you climb gently down 30 metres to the creek. This is a favourite with our dogs as it is a great place for them to take a quick dip before you start the 2nd climb.
On that note, this part of the Great North walk is Crown land, so dogs are allowed but be prepared to assist them in negotiating steel pegs and narrow rock ledges.
Remember I have rated this a challenging walk so certainly not for the unfit or pampered pooch.
Here the climb gets more technical. The track is still easy to see, but you will need to be cautious in some parts and don't forget to stop and look up from time to time, or you will miss some amazing rock formations.
This climb continues up another 150 metres until you reach a wide sandy fire trail. 1km on you will reach Turner Road Berowra Heights. If you turn left on the fire trail junction, you can continue on the Great North Walk, and you will end up at Cowan station 1.5 hrs away.
This walk is one of my favourites as I love the flowers in spring and the physical challenge it offers.
I trained for Kokoda on this track with a 20kg pack.
My husband has a saying train hard walk easy, and I found Kokoda no problem at all. Enjoy.