By Susanna Mills
KENTHURST HILLS TO HAWKESBURY RIVER… AND BACK! 47.5KM (2.5 TO 3 HOURS)
This month's road ride is an enjoyable experience starring all roads named 'Pitt Town.' The route studiously avoids most traffic and uphills… except for the return!
Park at Kenthurst shops, and turn left into Pitt Town Road. The first 10km is cruisy with good road shoulder so you're out the traffic lane. The road surface is rough, so expect rolling resistance- remember this for your return ride! Near Hidden Valley Lane, the road plunges down the ridgeline to Cattai Creek. On this steep descent, it is possible to reach speeds over 60km/h.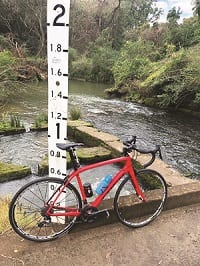 If cycling with friends, regroup at Boundary Road. (13.5km) Head straight across and up the gentle ascent of Neich Road past Maraylya Public school, turning right into Scheyville Road. Keep turning left into Pitt Town Dural Road, which is another quiet, gently descending road taking you through Scheyville National Park. At the intersection with Cattai Road (18km) ride acrossto Mitchell Road. Take care while crossing, as it is a very busy road. Enjoy riding through some random old acreages on the fringe of Pitt Town; they are all disappearing fast under cookie cutter project homes, the transition evident while riding up Bootles Lane to Bathurst Street.
It is here that you can visit the historic Pitt Town Village by turning left, or continue the ride by turning right. Either way, Bathhurst Street is elevated above the Hawkesbury River floodplain and Pitt Town itself is one of the most enjoyable cycling areas of this ride. Look out for the slightly hidden sharp left turn into Pitt Town Bottoms Road, (21km) which takes you down off the low ridgeline to enjoy a wonderful car free ride past multiple turf farms along completely flat, straight roads, parallel to the muddy Hawkesbury River. Take care crossing Pitt Town Road (it's the extension of Cattai Road) into Saunders Road and the Oakville area. (27km) Pace yourself while riding up past scenic acreages for the next 3km, as Saunders Road gets a little steeper just before the T junction with Old Pitt Town Road and Scheyville National Park.
Turn right onto Old Pitt Town Road, then the very next turning left into Midson Road- another favourite on this ride. Midson has uninterrupted views right across the national park to the Blue Mountains and, you guessed it, no traffic. The best place to stop and admire the view is at the intersection with Dormitory Road. Then turn right into Cusack Road, and enjoy some dirt road riding!
Cross busy Boundary Road with care, continuing straight down Maguires Road past more unfinished housing developments until you turn right into Mcclymots Road. (36km) This is a narrow, switchback road down to the low level bridge over Cattai Creek. The road surface is deteriorated in some areas, so take care. It is worth regrouping at the bridge to admire unique creek scenery and mentally prepare for the demanding 3km hill climb back up to the ridgeline intersection with Pitt Town Road.
From here, it's a gradual 9km ascent back up to Kenthurst Shops. If riding solo, I thoroughly recommend riding the Rick Temple Memorial shared pathway parallel to the road. Although it is a little too narrow to 'share' and the concrete path expansion joints are a bit annoying, it is a way smoother, traffic free area than the road shoulder is… and will return you to coffee, quicker !