It was a gorgeous spring day, fabulous sparkly morning for this "easy-peasy" walk. Not a true bushwalk but nonetheless taking in our local area.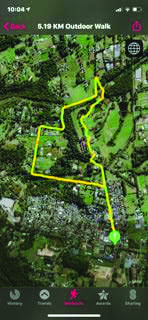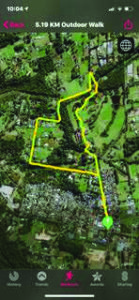 Start at Galston shops and walk north along Arcadia Road and into Fagan Park. Spring has definitely sprung at Fagan Park! Blossoms, bluebells, May Bush and much much more to delight the eye. Being a Tuesday, the lovely Friends of Fagan were there at the Museum tending the machinery, so I took the opportunity to say a quick hello and take a photo with two happy gentlemen Peter Panich and Kevin Hurley. (I'm the gal with the blue shirt)
Continue down through Fagan, past the lake which today was absolutely glistening, then out of the Carrs Road exit to follow a track along the south-west boundary fence back onto Arcadia Road. Cross over Arcadia Road and into Thomas Road and maybe 250 metres downturn left into Johnson Road. Soak in the peacefulness of this road, the trees, gardens and birds. At the end of Johnson Road there is a fire trail track (so I did do a little bit of a bush walk), follow this through to School Road back onto Arcadia Road again and up to Galston shops.
This walk is delightful and easy and definitely makes you appreciate the wonderful area we live in. It took just under 60 minutes and takes in another heart-warming part of our local area. We who live in this area know how lucky we are to have Fagan Park!
If you have time and want to treat yourself, a coffee at the end is a must, and, with a few cafes at Galston to choose from take your pick!