Colour, colour, colour…what a brilliant "Nod-to-Spring"!!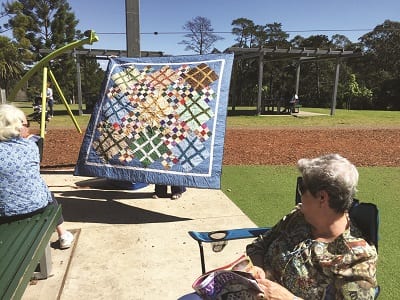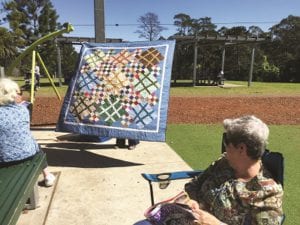 This wonderful quilt is an example of the colour-wheel-blocks which we have all been working on together while holding our patchwork meetings in Heritage Park. The clever placing of blocks has given a colour-wash effect to this bright, happy quilt.
Give a quilter some fabric and the ideas start flowing, inspiration from blue sky, green trees and grass … all a recipe for "joy' as you see in another cheerful and colourful quilt.
These quilts give us an opportunity to share some of the springtime feelings with the nursing homes and hospitals in our community.
---
Meeting on the first and third Wednesday of each month, we will (until further notice) continue IN THE PARK ….. For more information please call Carole on 9894 7749 and like our facebook page Arcadian Quilters Inc.
Stay well and …. KEEP SMILING !!