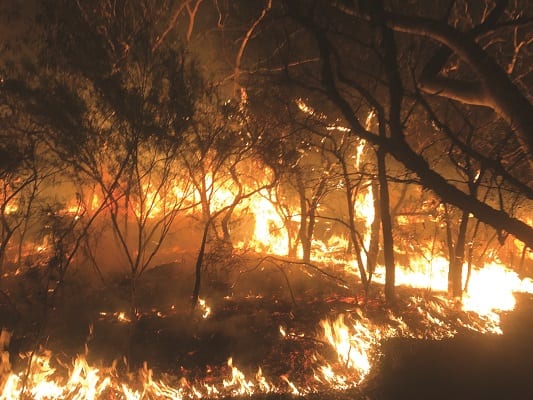 Fire season kicked off in the Greater Sydney region on the 1st of October, and will end 31st of March.
Preparing your property is an essential part of getting ready for Summer and while we support and encourage the reduction of hazards from around your home, it is a timely reminder to make sure that you have received the correct fire permits. During fire season, residents of the Hornsby/Ku-Ring-Gai district must have two permits, a current council permit, and a fire safety permit from NSW Rural Fire Service. It is a simple process and all you need to do is call and they will be sent to you, see the phone numbers at the end of this article. Unfortunately, we have been called to a number of pile burns and bonfires in recent weeks that have not had the required permits. As the weather continues to warm up, our opportunity to complete Hazard Reductions through burning is coming to a close, however, when conditions are right we will commence the program again. These Hazard Reductions also play an important role in regenerating our native bushland. However, Hazard Reductions can continue in the form of mowing lawns, removing materials that can burn away from your homes, and garden maintenance.
Part of our great working relationship with our colleagues at Fire Rescue NSW, Castle Hill FRNSW invited the Arcadia to train with them recently. Castle Hill's "A" Platoon discussed with us how we can assist them at different incidents. These training sessions continue improve the coherency between the stations during incidents that we attend together. During this training session, we looked at the various equipment they carry on the truck, some similar to what is on our trucks. We also discussed rescue situations and utilising the stokes litter, which is an important and versatile tool used to transport patients out of different environments such as rugged terrain to suburban homes. To top the night off, the brigade was given a tour of their station, seeing all aspects of their station life.
Arcadia was invited to discuss with 100 year 5 students from Waverley College who were at Vision Valley during November, about the difference between hazard reductions and back burning, the weather and geographical characteristics that influence the behaviour of fires and how we prepare for bush fires. Afterwards we showed them the equipment on our truck, and how it would be utilised during a bush fire. It was great to see the level of enthusiasm these students had towards our role in the community, and the understanding they demonstrated regarding bush fires.
For further information on preparing your homes for the fire season, please visit www.myfireplan.com.au and www.rfs. nsw.gov.au. Fire Control Centre: 9883 2000; Hornsby Council: 9847 6666; Ku-Ring-Gai Council: 9424 0000