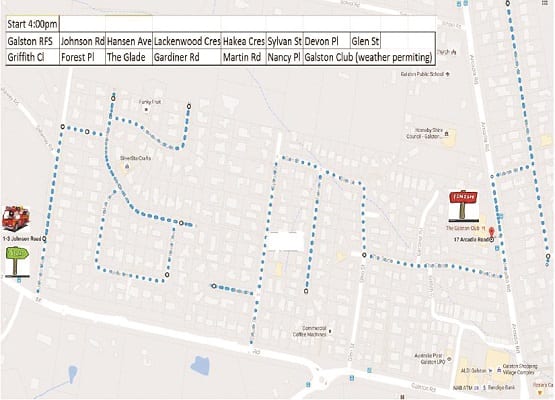 Annual Galston Village Santa Run
The annual Galston RFB Santa run will be held on Sunday December 17th from 4pm to 7pm.
Santa will make his way aboard the fire trucks and on foot through the local streets of Galston. When you hear the sirens, Santa will be coming. Santa's helpers will have lolly treats for the young and young at heart.
Galston member profile
Each month this year the Galston Rural Fire Brigade has featured a short interview with one of our members. It has been a great way to discover just how diverse a local fire brigade can be. For our final one this year we thought we should interview a member of the brigade who volunteers his time once a year.
Santa
How long have you been a part of the Galston Rural Fire Brigade?
I have been lucky enough to be a part of the Galston RFB Santa Run for many years now. I look forward to it every year!
What is your role there?
Each year I get to ride in the big red fire truck and visit all the boys and girls around the Galston Village. It often gets a bit CLAUS-trophobic in the truck so I like to get out and stretch my legs when I can.
I also know how important water is to a fire-brigade, so each year I donate all my old snowmen to help fill the truck's tanks. I like to refer to it as H2-Ho-ho-ho!
When you're not at the brigade's Santa run, what do you do for a living?
Apart from my yearly present delivery duties I'm quite the budding photographer and enjoy taking photos on my NORTHPOLE- aroid camera. Often the elves like to take a lot of sELFies with it.
What is your favourite part of the Galston RFB?
The amazing fire-fighters at Galston are a great bunch of people, coming from all walks of life and from all sorts of backgrounds. They are also dedicated and hard-working, and like to make sure all members are well trained. This year they taught me fire HO-HO-HOse drills, and even taught the Christmas elves the phonetic ELF-abet! Which is a little different to the regular one because ours has Noel. I look forward to seeing everyone at the annual Santa Run!