By Matt Kean
I want to thank the Hornsby community for coming out and getting vaccinated. We have been leading the way with our high vaccination rates and the rest of NSW is following after we passed the 80% single-dose vaccination target in the middle of September.
If you haven't been vaccinated, do it now. There are a number of local GPs who are offering vaccinations or you can book to visit one of the NSW Health Hubs via www.nsw.gov.au/covid-19
Local residents impacted by isolation or testing can now access the COVID-19 emergency hardship payments, test and isolate support payments and community empowerment grants. If you miss work due to a test or isolation help is available. Visit Service NSW online or call 13 77 88 for further details.
Return and Earn has also returned to a number of LGA including Hornsby, Hawkesbury and the Hills with reverse vending machines back open again for eligible containers.
The NSW Premier Gladys Berejiklian has announced the stay at- home orders for adults who have received both doses of the COVID-19 vaccine will be lifted from the Monday after NSW passes the 70 per cent double vaccination target.
Those restrictions which will be eased include;
Gatherings in the home and public spaces:
• Up to five visitors will be allowed in a home where all adults are vaccinated (not including children 12 and under).
• Up to 20 people can gather in outdoor settings.
Venues including hospitality, retail stores and gyms:
• Hospitality venues can reopen subject to one person per 4sqm inside and one person per 2sqm outside, withstanding while drinking permitted outside.
• Retail stores can reopen under the one person per 4sqm rule (unvaccinated people will continue to only be able to access critical retail).
• Personal services such as hairdressers and nail salons can open with one person per 4sqm, capped at five clients per premises.
• Gyms and indoor recreation facilities can open under the one person per 4sqm rule and can offer classes for up to 20 people.
• Sporting facilities including swimming pools can reopen.
Stadiums, theatres and major outdoor recreation facilities:
• Major recreation outdoor facilities including stadiums, racecourses, theme parks and zoos can reopen with one person per 4sqm, capped at 5,000 people.
• Up to 500 people can attend ticketed and seated outdoor events.
• Indoor entertainment and information facilities including cinemas, theatres, music halls, museums and galleries can reopen with one person per 4sqm or 75 per cent fixed seated capacity.
Weddings, funerals and places of worship:
• Up to 50 guests can attend weddings, with dancing permitted and eating and drinking only while seated.
• Up to 50 guests can attend funerals, with eating and drinking while seated.
• Churches and places of worship to open subject to one person per 4sqm rule, with no singing.
Travel:
• Domestic travel, including trips to regional NSW, will be permitted.
• Caravan parks and camping grounds can open.
• Carpooling will be permitted.
Non-vaccinated young people aged under 16 will be able to access all outdoor settings but will only be able to visit indoor venues with members of their households.
Employers must continue to allow employees to work from home if the employee is able to do so.
There will be revised guidance on isolation for close and casual contacts who are fully vaccinated, with details to be provided closer to the reopening date.
Masks:
• Masks will remain mandatory for all indoor public venues, including public transport, front-of-house hospitality, retail and business premises, on planes, and at airports.
• Only hospitality staff will be required to wear a mask when outdoors.
• Children aged under 12 will not need to wear a mask indoors.
The roadmap to freedom is a subject change or health advice if circumstances change drastically or if cases within a designated area remain too high.
Only fully vaccinated people and those with medical exemptions will have access to the freedoms allowed under the Reopening NSW roadmap.
Restrictions will ease further when NSW hits the 80 per cent double dose target. This could include further freedoms around international travel, community sport, major events and other areas.
For the latest information, restrictions and to book vaccination visit nsw.gov.au/covid-19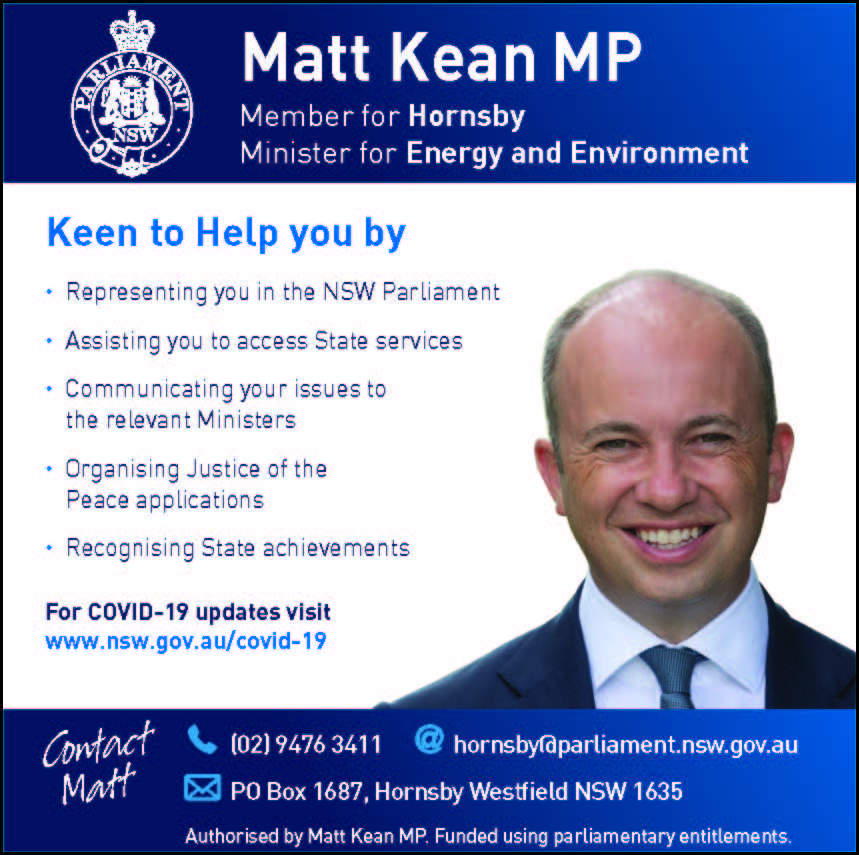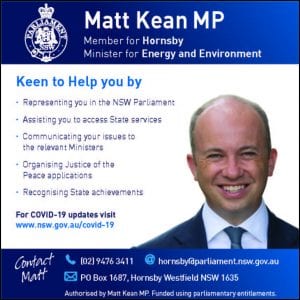 Phone: (02) 9476 3411
PO Box 1687, Hornsby Westfield NSW 1635
Email: [email protected] Website: https://mattkean.com.au/