Local resident and small business owner, Leanne Fisher, has seen the difficulties small business owners have faced this year and the effects a four-month lockdown has had on so many people.
Giving
To help as many people as possible in a tough year, Leanne invited friend and small business owner Lisa Carruthers to assist in bringing to life her idea to create Christmas Markets for small business owners and give back to the community. After consulting a couple of venues, Leanne arranged a meeting with Galston Club and was met with an obliging Christophe, Club manager, who happily donated the use of the auditorium for such a great cause. And so, the Inaugural Galston Club Christmas Markets were born.
The event will exhibit over 20 stalls, and to add to the festive cheer, will greet its first shoppers with a free drink voucher. Items for sale include handmade jewellery, children's toys, home decor and Christmas treasures. Donated by stallholders, there are over 20 lucky door prizes. With so much on offer, this is the one event you do not want to miss!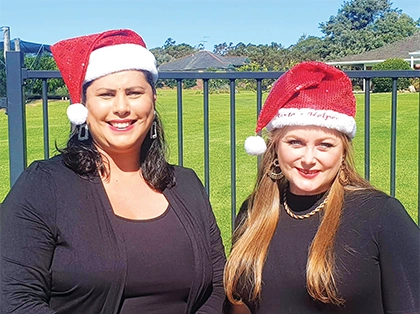 Event Organiser Leanne Fisher says, "What started as a small idea has turned into something amazing for everyone. It's truly exciting to have created such an event that gives to so many. All profit is going back into the community, and with its success, it is something we plan to do every year."
"The event is a win for everyone involved." Leanne continued. "It supports our local club, it supports small business owners, and it gives back to the community. This is a not for profit event, and I could not have done it without the help of all involved."
The Inaugural Galston Club Christmas Markets are being held in the auditorium at Galston Club on Thursday 2nd December, from 12 noon to 8pm. Entry is a gold coin donation to either Beyond Blue or the National Breast Cancer Foundation.
The bistro has lunch specials 12 pm-2:30 pm, cake and cuppa specials 2:30pm-5pm, and dinner specials from 5:30pm. Bookings for the bistro are essential. To book, please call 9653 2017. Galston Club also operates a courtesy bus service and will commence at 5pm on market day.
---
Leanne operates a bra fitting service, a virtual shopping service and has a life coaching business. Leanne can be emailed at; [email protected] or [email protected].