[vc_row][vc_column width="1/6″ offset="vc_col-lg-1/5 vc_col-md-1/5 vc_col-xs-1/5″][us_image image="81825″ size="thumbnail" align="left" style="circle" has_ratio="1″][/vc_column][vc_column width="1/12″ offset="vc_col-lg-4/5 vc_col-md-4/5 vc_col-xs-4/5″][vc_column_text]By Annette Madjarian[/vc_column_text][us_post_date][/vc_column][/vc_row][vc_row][vc_column][vc_column_text]Internationally renowned tenor and Rouse Hill resident Diego Torre is reprising his role as the lead Don José in Opera Australia's exclusive open-air production of the world-class opera Carmen.
Premiering last month on the 25th of November, the special production of Carmen is like no other Opera Australia has staged, featuring a new outdoor venue in the UNESCO World Heritage-listed Cockatoo Island on Sydney Harbour.
Wanting to create "awe-inspiring experiences for audiences", Carmen features not only some of the world's best opera singers, but comes armed with a dance troupe, motorbike stunts, and nightly fireworks, in a fully immersive production of the famous opera.
For Opera Australia's leading tenor Diego Torre, this will be the first time he's performing in an outdoor production and one he's looking forward to very much. "It's going to be an amazing atmosphere. There is going to be pop-up food and drinks… they are throwing everything at this, it's going to be amazing," he explains.
It will also be Diego's first time performing this opera in Australia, having featured in it internationally as the lead character Don José, a naïve soldier who is seduced by the wiles of the fiery gypsy Carmen.
"Don José and Carmen, they come from different very backgrounds, and suddenly because of destiny or fate, they cross each other lives," Diego told the Galston, Glenorie & Hills Rural Community News.
"Basically, I think that there are some people in this life where they never should be together. And in this case, they did." And like all good operas, there is a fateful ending to the very intriguing story of the tempestuous heroine.
Diego has been going from strength to strength since arriving in Australia 11 years ago after being spotted in New York by the now former Opera Australia Artistic Director Lyndon Terracini (who incidentally was also responsible for creating the Cockatoo Island outdoor opera concept in Carmen). After hearing him sing in New York, Mr Terracini invited Diego to come to Australia to star in 24 performances of La Boheme. That was 2011. The rest is operatic history.
Diego's most celebrated roles include Pinkerton (Madama Butterfly), Edgardo (Lucia di Lammermoor), Rodolfo (La Bohème), Gustavus (Un ballo in maschera), The Duke (Rigoletto), Gabriele Adorno (Simon Boccanegra), Rodolfo (Luisa Miller), and the title role in Don Carlo.
Diego, aged 42, had barely wrapped production on Opera Australia's Attila as Foresto, the lover of the lead character Odabella (played by Armenian-Australian soprano Natalie Aroyan), before heading into rehearsals for Carmen.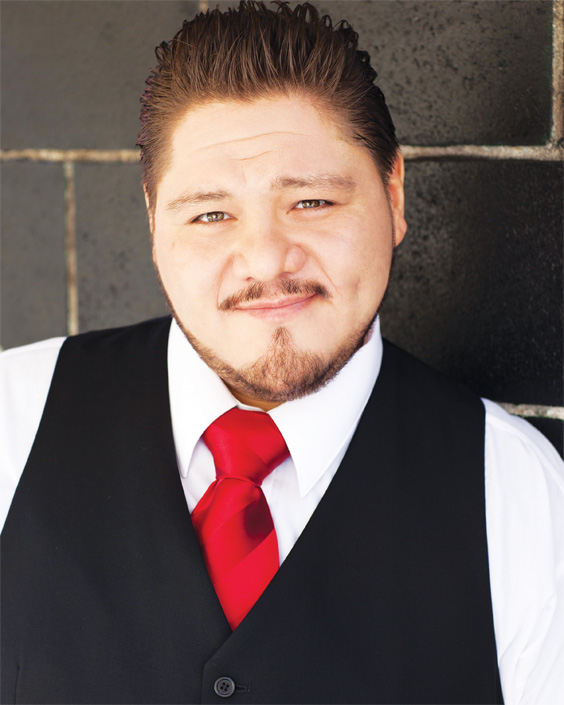 Once Carmen is concluded, Diego will jump into a special performance on New Year's Eve at the Sydney Opera House; play Pinkerton in Madama Butterfly on Sydney Harbour in 2023; then take on the role of Radamès in Aida (2023).
The Mexican-born tenor said he looked forward to having some time off in between productions, and more than anything wants "to spend time at home" with his family.
Diego, his wife Paula (an opera singer who also has a law degree) and their two children, moved to Rouse Hill in 2020 from the inner-city suburb of Waterloo and they've never looked back. He said his family loves living in Rouse Hill and describes it as a warm, happy, family area.
Diego and Paula don't often have an opportunity to sing together but once a month they sing for parishioners at their church, St Therese Catholic Parish Mascot, as a means of giving back to the church that's given their family so much.
"They have been very kind to us since we arrived in the community, they embraced us. That's the way that we can pay back," Diego explains earnestly.
If you'd like to see Diego in the stellar production of Carmen (which is performed in French with English subtitles) at Cockatoo Island, performances are all the way through to the 18th of December.
The NSW Minister for Tourism and the Arts Ben Franklin said Carmen would be a highlight of Sydney's summer events calendar and a major drawcard for visitors.
Further information and tickets can be found at opera.org.au/carmen or via the Opera Australia Box Office on (02) 9318 8200.[/vc_column_text][/vc_column][/vc_row]