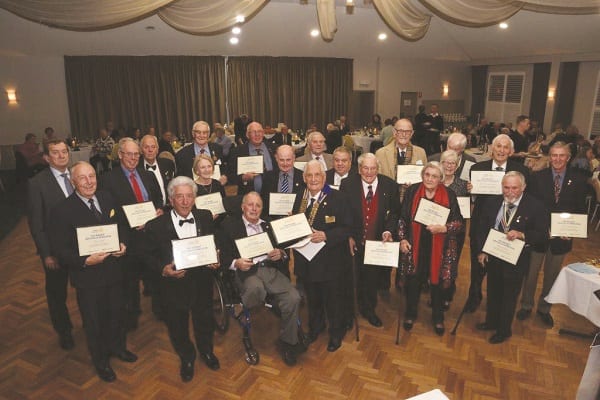 The Rotary Club of Dural celebrated its 50th Anniversary on Friday 23rd June at Dural Country Club. Guest of honour was Ben Swane AM, who was the foundation President of Dural Rotary in 1967. Ben spoke about the history and formation of Dural Rotary Club, its longevity over its 50 years of service to the community and the clubs charitable fundraisers over that period of time, which were outstanding.
Along with current members and former members with representatives from Kenthurst Rotary, Castle Hill, Waitara, Ryde and Galston Rotary Clubs, all attended the historic night with 112 guests and visitors led by the President of Dural Rotary, Allan Forno.
Allan reported on many of the organizations that were recipients of Dural Rotary Club's support including funds that were raised through many BBQs and sausage sandwiches. These included research grants into various Medical PHD candidates such as Pancreatic Cancer, Parkinsons, Motor Neuron etc. Funds raised over 50 years amounted to in excess of $2 million dollars. Local recipients included RYLA and the Dural Men's Shed. International efforts included support for an orphanage in Thailand for more than 20 years, a school in Africa started by two young people from within our local area. There is not enough room here to list all those that the club has supported over the years.
What Dural did achieve was all down to members, sometimes volunteers from the community in giving us a helping hand and our motto 'Service Above Self' was always on display.
Other dignitaries who attended and took part in the presentations were: The District Governor of District 9685. Bruce Larkin; the District Governor Elect, Peter Ward; Ray Williams. Honary member of Dural Rotary and MP for Castle Hill, who presented to the Club a commendation from the NSW Government on its 50th Anniversary.
A presentation to all past Presidents of Dural Rotary was made by President Allan Forno , each Past President, receiving a plaque in recognition of their service..
Many former Rotarians and visitors travelled great distances to celebrate the 50th Anniversary.
A wonderful night of camaraderie, many memories and an outstanding venue decorated in Rotary regalia, made the night so successful.