by Vern Sotter
You may see this Austin Freeway travelling through Pennant Hills, Dural and Galston on a Tuesday on its way to Fagan Park where its owner volunteers in the Heritage area. This car is unique, possibly the only genuine prototype of any make in regular use in Australia today.
Yes, this vehicle is the original prototype of the Austin Freeway built in Longbridge, United Kingdom, arriving in Australia in August 1960. The Austin Freeway model was produced from 1962 to 1964 and was a 6-cylinder car built specifically to compete with Holden and Ford Falcon.
The model was manufactured at the BMC Plant at Zetland, NSW, and only sold in Australia and New Zealand. A sister more luxurious model using the same mechanical parts was the Wolseley 24/80.
Engineers at the BMC (British Motor Corporation) plant at Zetland in Sydney, of which the owner was a team member, set about developing the car for Australian conditions. The car was subjected to the "101 uses tests" involving, braking, ride, handling, cooling, fuel consumption, engine performance, tyre evaluation, noise, vibrations, harshness, and all aspects of a car's function, and evaluated this against competitors.
At the conclusion of testing, the car had completed 38,000 miles or 62,000kms. As an employee, the owner obtained the car in 1962. Today the car has done 293,000 miles or 471,000kms.
In the 1960s all manufacturers kept up to date with what their competitors were offering. The image above shows the Austin Freeway alongside the newly released XK Ford Falcon and the thencurrent FB Holden at Maroubra beach in 1960.
BMC bought the Holden and Falcon and dismantled them and tested their components against their own in an ongoing quest to offer the market a first-rate product.
Upon purchasing the car, it became Allan's wife Leah's everyday car, driving the Austin for the next 34 years. For the first 2-years, the car was still in 3-speed Manual specification, but Allan managed to collect all the necessary parts to convert it to Automatic specification. This transformed Leah's usage of the car, as well as her competence as a driver. Indeed she has probably driven it for more miles than Allan has. It figured in both our children's early life with school and sports trips, and eventually, both daughter and son did their early driving lessons in it.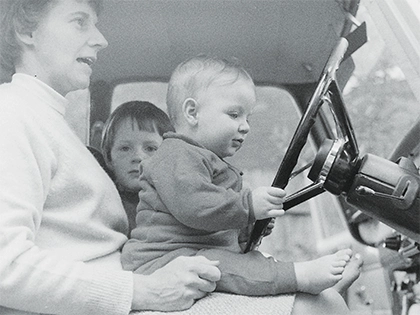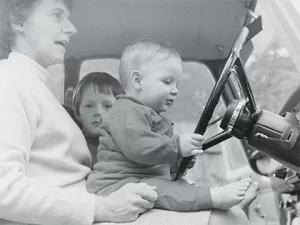 Eventually, our daughter got her licence in it. Leah was a Volunteer at "Hillview" Community Health Centre for 24 years, and the Austin was used to pick up and deliver clients for medical appointments, a part of Hornsby Ku-ring-gai Hospital Services. It was very popular with the older passengers, being much easier to get in and out of than the more modern cars also in use.
The car has also been involved in Austin Motor Vehicle Club activities for 35 years, and used on monthly outings as well as on 10 "Austins Over Australia" Rallies to places as diverse as Yass, Wangaratta Vic., Toowoomba Qld., Adelaide SA, Queanbeyan, Ballarat Vic., Warwick Qld., Canberra ACT, Forbes NSW, Bendigo Vic. Other side trips have been to Broken Hill, the Flinders Ranges and the Great Ocean Road. Six trips have been to the Bathurst Annual Historic Car Rally.
It has been to all of the Annual "All British Day" Displays and the Annual displays at The Eastern Creek Motorsport Park along with 1700 other older cars. It is a feature of the Granny Smith Parade at Eastwood for their Annual Festival over the past 40 years. The old car has been a reliable workhorse, and many times has been used with a trailer to carry garden rubbish to the dump for disposal and carry things like push bikes to a holiday house at Pearl Beach.
Our Austin Freeway has now been part of the Foy family for just on 60 years.