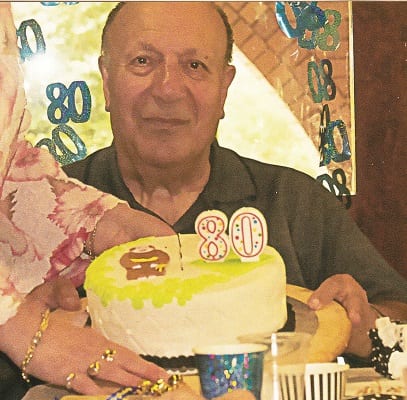 Vale Father Simon
Everyone in St Benedict's parish and the many people in our community who met or worked with him were saddened to hear of the sudden death of Father Simon Aloisi osb on Friday 8th September. Father Simon was born in Italy but spent much more of his life in Australia than in his native land.
He was ordained as a priest more than 50 years ago and served in the parish of Smithfield for a number of years, then as the parish priest in St Benedict's Arcadia from 1996 to 2001. But he much preferred to serve in a supporting role and was still working as assistant parish priest until his death.
Father Simon became well known in our district because of his involvement in many community activities, including regular visits to events at Rowland Village and, later, Mark Donaldson House. He was the chaplain to the St Benedict's Seniors Group for a number of years and is shown in the picture celebrating his 80th birthday with the seniors. We will miss him.
Galston Christian Education Association (GCEA) Spring Dinner
A group of parishioners represented St Benedict's at the annual GCEA dinner held in the Galston Club and reported that everyone had a wonderful night. Special thanks to the organisers. Parish priest Father Bernard commented on the support given to Christian education by Galston High School and by all the other schools in our district.
St Benedict's Parish Fete
Many have asked what happened to the St Benedict's fete that is normally held in September. The good news is that the fete hasn't disappeared – it's just been postponed until 18 March 2018. The organisers are hoping that everyone involved will find this a slightly less crowded time of year.
Happy birthday Sister Clem
We celebrated our much-loved Sister Clement's 90th birthday with a Sunday morning party. Congratulations from all of us.
Weekend Mass Times
St. Benedict's Catholic Church Arcadia; Mass at the Monastery, 121 Arcadia Rd, Arcadia, at 7 am every morning. Mass at the Parish Centre, Corner Fagans Rd and Arcadia Rd 7 pm Saturday, 9 am Sunday.