Local year 10 Galston High School student, Tahlia Grace, is studying Agriculture. She had heard about the drought and the strife some farming families were in and she wanted to do something to help. With support from her mum, Simone from Chicken Fish Takeaway in Glenorie, she started putting together some plans as to what she could do. Following some research on the best area to target, she made contact with the CWA at Marthaguy, a farming area about 70kms from Warren (2hrs out of Dubbo). With a list of what was needed, she set about putting up some posts on facebook, and Simone helped by putting donation tins in the shop.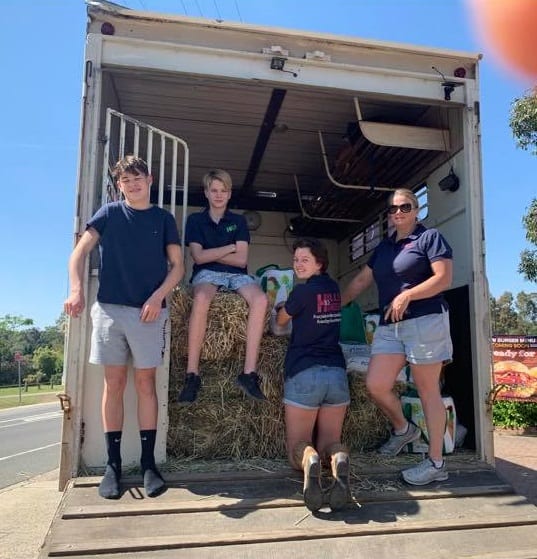 Offers started to flood in quickly. Locals donated hay, dog and animal feed, toiletries, 5 litre water boxes, plus money donations. In fact in just 10 days they raised over $12,000 in goods and money donations. It was an amazing response from our very generous community.
With help from another local family, the Marsdens, they loaded everything into two trucks and headed out. At Warren (the closest town) they stopped to buy petrol vouchers, IGA food vouchers and meat vouchers from the butcher for the local families. Monthly on a Sunday, all the local families attend church, and their visit coincided with the Church service, so here they gave out the vouchers, and also drove back to some of the farms to drop off the hay and animal feed.
On their journey they saw empty dams, dusty paddocks and very thin, scrawny animals and families that were really doing it tough.
So on their return, they have set up a charity 'Our Plate to their Paddock'. Please follow them on facebook. A 'Go Fundme' page is also planned. Donations can be made either by dropping into Chicken Fish Takeaway in Glenorie, following them on facebook or donating directly to the Charity's account at Bendigo Bank Galston BSB 062313 acc 10189855. Other donations of hay, animal feed and animal milk powder would also be appreciated.
They plan another trip before Christmas. Well done Tahlia. Great work.