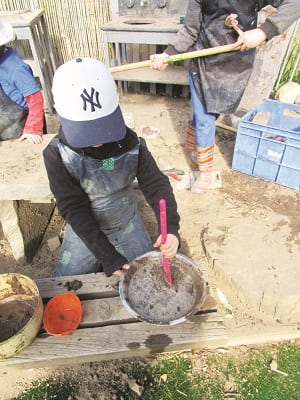 The preschool mud kitchen has been a hive of activity recently with the children having a wonderful time making "wombat stew" and mud pies and quick sand.
While using the mud kitchen the children are developing connections to the natural world while enjoying the benefits of shared play and learning to display awareness of and respect for others. They are sharing both equipment and space and are interacting verbally and non verbally as they play. In engaging in dramatic play and developing fine and gross motor skills. Aspects of EYLF Outcomes 1, 2, 3 4 and 5 are evident in the mud kitchen planning, building and play.
The children also enjoyed a Young Australia Workshop where they were entertained by Sam who showed the children many different types of African Drums made from wood and goat skin. Using the tradition of the talking drum and other percussive instruments, Sam explores the exploits of 'Ananse', the folkloric spider character of the Ashanti forests of Ghana.
We are currently enrolling for 2018, if you have a preschool aged child please contact our director Rebecca on 9653 2252 or at [email protected] for further information.