At its meeting last night, the first hybrid Council meeting with the Mayor joining remotely, Hornsby Shire Council detailed plans to spend $80 million next financial year on capital projects as part of its draft 2023-2026 Delivery Program, including the Operational Plan 2023/24 (DPOP), plus the budget for the year ahead.
The DPOP sets out the roadmap for how Council will deliver on goals identified by residents in its 10-year Community Strategic Plan Your Vision I Your Future 2032. Following the challenges of recent years, Council's key priorities are to remain financially strong and to build a resilient Shire, well prepared for a growing population.
"As we prepare for the Hornsby Shire of the future, it is essential that our infrastructure is of a standard that our growing community deserves. I'm therefore proud that we will spend just over $80 million on capital projects, largely funded by external grants and development contributions.
"This expenditure will increase liveability and build resilience by creating a safe and efficient transport network, upgrading our open spaces and natural surrounds, building thriving village centres and progressing our major projects at Hornsby and Westleigh Parks," said Hornsby Shire Mayor, Philip Ruddock.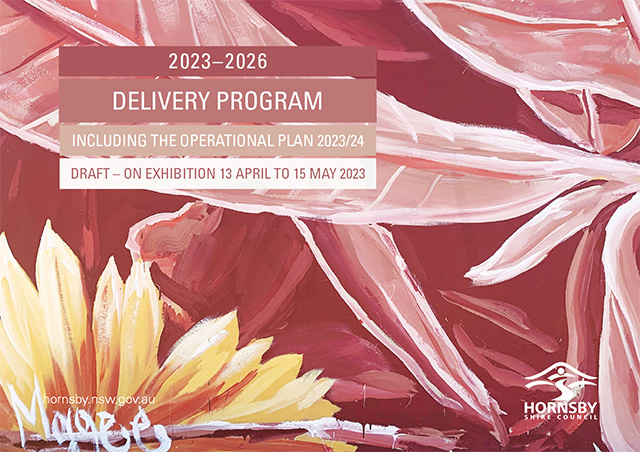 KEY INITIATIVES FOR 2023/24 INCLUDE:
– Local road improvements ($10.96 million)
– Footpath improvements ($500,000)
– Traffic facilities ($474,000)
– Drainage improvements ($1.4 million)
– Upgrades to parks and sporting facilities ($12.4 million)
– Upgrades to bushland and waterways ($2.1 million)
– Undertaking designs and commencing improvements at
Hornsby Park ($34.8 million)
– Progressing Westleigh Park (1.8 million)
– Asquith to Mount Colah Public Domain Improvements ($3.8 million)
– Completion and adoption of the Hornsby Town Centre Masterplan.
The DPOP also details where additional funds levied through the current application to the Independent Pricing and Regulatory Tribunal for a Special Rate Variation (SRV) would be spent should the application be successful.
"Hornsby Shire Council has a track record for prudent financial management, and it is our strong intention that this continues, regardless of the outcome of the SRV application. We have therefore presented our 'business as usual' initiatives and budget as well as a separate SRV scenario, outlining clearly where the community's money will be spent if this is granted,' Mayor Ruddock continued.
The DPOP will be on public exhibition for community feedback until 15 May at yoursay.hornsby.nsw.gov.au
Also at last night's meeting, Council received a report with the feedback from the public exhibition of the Brooklyn Car Park Management Plan. It acknowledged the efforts and contribution of the community and stakeholders to this process and adopted a staged roll out to management of parking. Stage One will include introducing timed parking in portions of Lower and Upper McKell Park and at Dangar Road Car Park, flexible parking at Parsley Bay (no time restrictions) and a number of initiatives to manage trailers in the area.
Council also determined not to proceed with the proposed leased car park in Upper McKell Park overflow area and to undertake further community consultation on the introduction of paid parking in McKell Park and Parsley Bay to respond to community demand for flexible parking.
ALSO AT LAST NIGHT'S MEETING COUNCIL:
– Endorsed a new member of the Hornsby Aboriginal and Torres Strait Islander Consultative Committee – Appointed new community and expert panel members to the Sydney North Planning Panel and Hornsby Local Planning Panel
– Endorsed a Notice of Motion by Councillor Tilbury about abandoned vehicles from NorthConnex and the M1 Pacific Motorway. Council determined to write to the NSW Minister for Roads and local State Members of Parliament to seek their cooperation to cease the practice of dumping abandoned vehicles from NorthConnex and M1 Pacific Motorway in local streets and responsibly manage vehicles in a designated holding facility or depot.
The full agenda of the meeting, along with details of each item discussed, can be found at hornsby.nsw.gov.au the video recording of the meeting will be available from tomorrow afternoon.