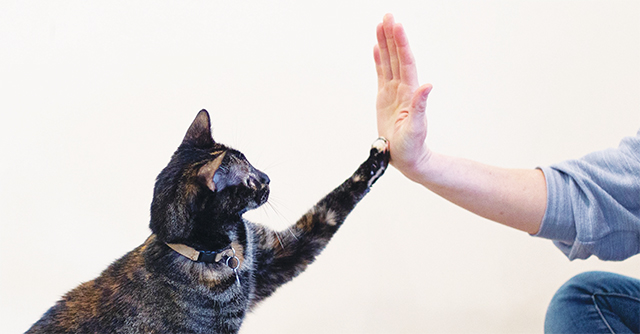 ENCOURAGES RESIDENTS TO 'AVOID A CAT-ASTROPHE' BY KEEP THEIR CATS SAFE AT HOME
Cat owners in Hornsby Shire have the chance to be given a plush pad worth $500 for their furry friend as part of Hornsby Shire Council's 'Keeping Cats Safe at Home' giveaway in partnership with the RSPCA NSW.
This May, the first 60 people to upload a picture of their cat 'safe at home' to Hornsby Shire Council's website will win a cat enclosure worth $500.
The RSPCA NSW's 'Keeping Cats Safe at Home' program aims to encourage and support cat owners to prevent their cats from roaming away from their properties to both keep cats safe and to protect native wildlife. Hornsby Shire Council is one of 11 partner councils across NSW to receive funding and resources to provide cat lovers with the knowledge and skills to help their cats live their best life at home.
The average lifespan of an indoor-only cat is 10 years longer than an outdoor cat. An outdoor cat encounters daily danger. They risk getting hit by a car, fighting with other cats, being poisoned, or harmed, being attacked by roaming dogs, getting lost, contracting diseases such as FIV, or being dumped by disgruntled neighbours. They also pose a significant risk to our precious Australian wildlife due to their natural hunting behaviour.
However, cats can live a happy, safe and stimulating life indoors. For tips and information on how your cat can live its best life indoors visit hornsby.nsw.gov.au/catsathome
"Hornsby Shire Council is committed to promoting responsible cat ownership and we are delighted to partner with the RSPCA NSW on this important program. We continue to take steps in managing the unowned cat population in Hornsby Shire through our targeted desexing program and are actively advocating to the NSW Government for support. I encourage cat lovers in the Shire to enter this simple giveaway to win a great prize and I look forward to seeing lots of cute snaps," said Hornsby Shire Mayor Philip Ruddock.
The 'Keeping Cats Safe at Home' cat enclosure giveaway runs in May.
For more information visit hornsby.nsw.gov.au/catsathome