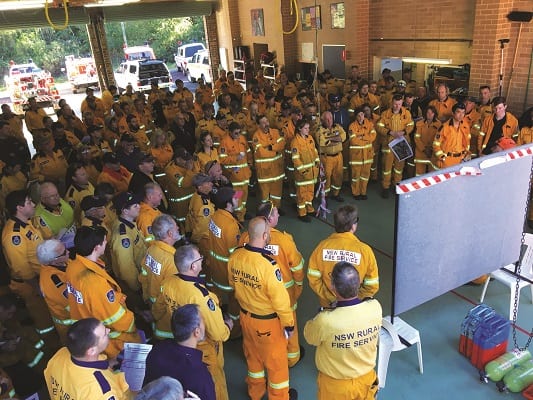 Glenorie Fire Fighters Deployed to Canada
Three Glenorie crew, Glynn Lloyd, Chloe Paton and Chris Compton along with another 37 fire fighters from organisations in NSW and ACT were deployed to Canada for six weeks of intensive, remote area fire-fighting. NSW RFS Commissioner Shane Fitzsimmons saw the crew off from the Airport. It is very different fire-fighting to Australia. They have met bears who have become more 'friendly' as the fire activity died down. They have also spotted cougars, a lynx, wolves and bobcats on their fire ground. And now they are fighting fires while it is snowing! Our Chloe should get special mention as she is the only female on the Australian team. They have been working hard but are all safe and enjoying their time there.
Hazard Reductions
As you have probably noticed, we have been very busy conducting several Hazard Reductions (HRs) in the area. The principle of a Hazard Reduction is to reduce the fuel loading and therefore reduce the intensity of a fire should one occur. This doesn't mean there will be no fires. It doesn't mean that if there is a fire it will not spread. It simply means it should slow a fire down. With this in mind, we urge all residents to be prepared for the fire season. Make sure your properties are prepared and most importantly that you are prepared. We hope that all residents have completed their Bush Fire Survival Plan. If you haven't yet, then make sure you do urgently.
If you need assistance with your Bush Fire Survival Plan or would like to discuss how to be prepared for the Bush Fire Season then speak with us at the Glenorie Growers Market on the Fourth Sunday of the month or give us a call.
Get Ready Weekend Open Day
Thank you to all residents who came and visited us on Sunday 17th. It was great to speak with you and we are happy that we could help with some excellent questions. If you couldn't make it or if you have any questions, please don't hesitate to give us a call, send us a message on the Facebook page or come and see us at our stand at the Glenorie Growers Market on the 4th Sunday of every Month.
For further information go to www.rfs.nsw.gov.au or contact the Brigade: Station Phone: 9652 2017 (leave a message and someone will get back to you) or talk to a real person, James: 0422 168 914. Visit the brigade stand at the Glenorie Growers Market on the fourth Sunday of the month in the grounds of Glenorie RSL. Facebook: Glenorie Rural Fire Brigade; Email: [email protected]