In February, we had one of our members, Sarah represent our club at 2022 Pony Club NSW State Dressage Championship along with 6 other riders from other local pony clubs in our zone. They had to travel to Bendick Murrell, near Young so they all got to camp and socialize with many newly made friends.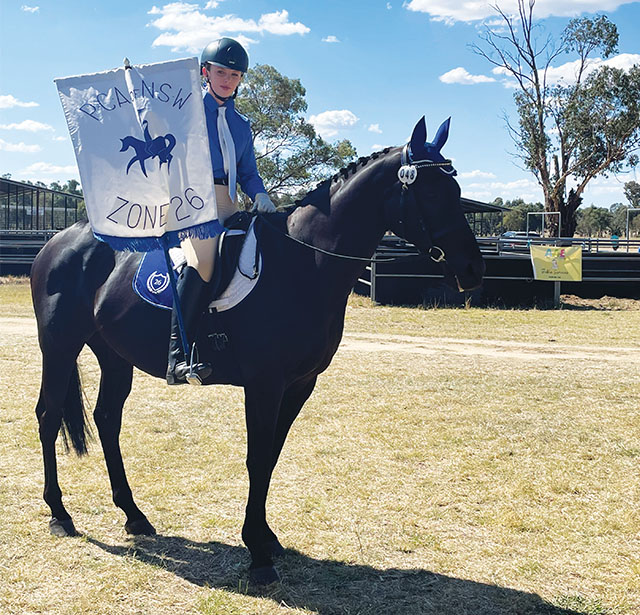 We are extremely proud of Sarah's results competing against some very strong riders from across the state achieving 12th, 9th, 5th, and 7th in the 13-U17 novice and prelim championships. Sarah said "The chance to represent the zone at the state level is always an honour, especially along with being a representative for Glenorie Pony Club. The support from teammates all weekend made the competition a whole lot more fun".
The weather at the competition sat in the high 30s making riding in the middle of the day a big challenge. It was essential for the horses to have electrolytes all weekend and be hosed regularly to keep them cool.
The zone 26 team tried to escape the heat by going to a public swimming pool in the nearest town, which was young, a 25-minute drive from the grounds.
In March there was a triple state event over 3 days covering Jumping Equitation, Tetrathlon and Formal Gymkhana which one of our members Skye competed in all 3 events. Skye, mum and pony Slippery made the long journey to Narrabri to represent our club and zone with days reaching 36°C regularly which made the conditions tough for both horse and rider always ensuring that both were well hydrated and rested.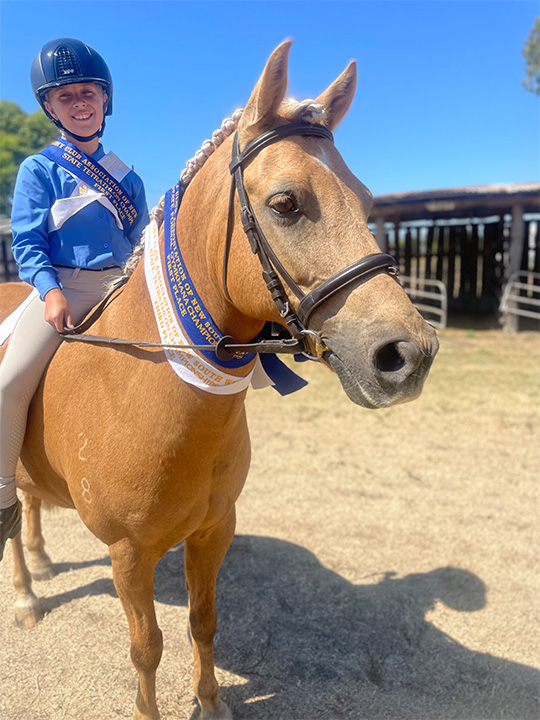 Skye placed well in all the events and achieved a 7th, 8th and 6th place in each of her jumping rounds to finish 7th overall in the 11-U13 jumping equitation championship. Next up was the Tetrathlon (Skye's favourite event) Skye was 1st in running, 3rd in swimming, 3rd in laser pistol shooting and 3rd in the riding phase, finishing in 3rd place overall for the U13 championship.
Formal Gymkhana saw her place 1st in the D grade showjumping and she had various placings in the sporting and Show riding phases to finish in 13th place for the 11-U13 championship. We couldn't be prouder of Skye's efforts and results.
Our recent Rally days have had a focus on sporting, show riding and show jumping so we can prepare all our riders in the different types of riding. This will also encourage them to enter the upcoming Zone 26 Formal Gymkhana and Sporting days which cover everything they have practiced. Zone events cater for all levels of riders so looking forward to seeing all our riders at these events.