The Galston District Garden Club meet regularly on the 2nd Wednesday of each month in the Galston Community Hall, 37 Arcadia Road, Galston at 7.30 pm. We welcome new members and visitors. We are an informal and friendly group, and no matter what your gardening ability or gardening knowledge, you can be sure that you can look forward to pleasant company.
Your botanical knowledge will be entirely adequate. Members range from beginners to very experienced. We use our interest in gardening as a great excuse for social gatherings and garden rambles. There will be interesting talks and displays at each meeting. We have a large and extensive library of gardening books and DVDs that members can borrow. Each year we hold the Galston District Open Gardens Weekend on the third weekend in October to fundraise for local community projects and charities. This year will be the 20th to 22nd October. About eight gardens will be opened to visitors with plant and produce stalls. We are always looking for new gardens to open for this event and if you would like to generously open your garden or know of a garden owner, who could be approached, please contact the Secretary at the club.
The Garden Club is more than just coming to listen to speakers and purchasing a bargain plant. You will be rewarded by making new friends and sharing plant tips and ideas.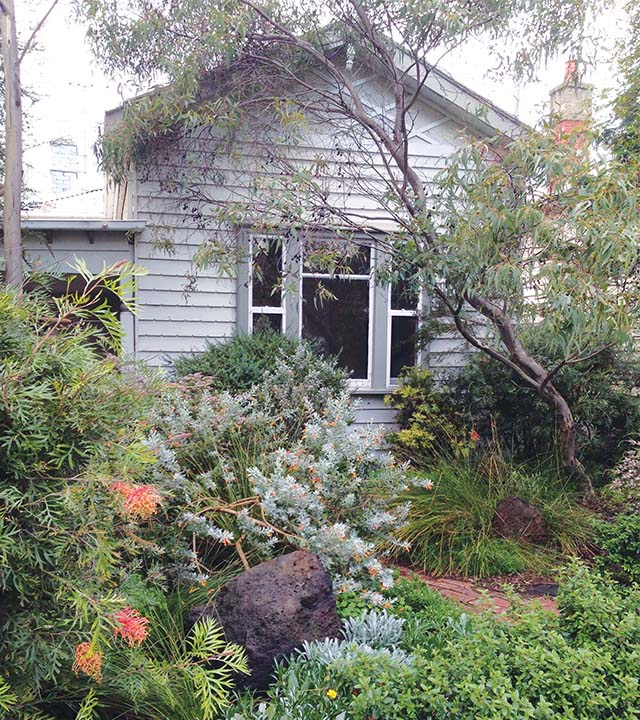 Our speaker for our March meeting was Judy Horton OAM (our Patron) Judy spoke about her garden with a slide presentation. Judy moved to her property in Middle Dural in 1972, an acreage with lovely big gums trees but needed restoration. Privet was a major problem but over time with patience and perseverance has bought it back to a native and rainforest garden. Members were invited to ramble through Judy's garden the follow Wednesday to enjoy the "fruits" of Judy's labour.
If you do not need a lawn, consider filling deep garden beds with dense plantings of native shrubs and grasses, traversed by winding paths of crushed granite Avoid formality and instead use curved and fluid lines for the layout. You can find Australian plants to suit every layer and soil types of your garden. For flowerbeds and edgings, think of Australian native flowers such as Swan River daisies and kangaroo-paws with their fabulous velvety flowers. For hedges, check out the many varieties of lilly pillly, westringia and callistemon. For shrubberies, look for new forms of the old favourites, like grevilleas, banksias, wax flowers and mint bushes. For striking architectural plants, you cannot go past Gymea lilies and grass trees, with their amazing blackened trunks. In addition, for fabulous low-maintenance tub plants, dwarf acacias like Limelight and Green Mist are winners.
We Aussies are spoilt for choice when it comes to picking native species to include in our garden designs. Australian's plants can bring your native garden alive with colour, awash with lush greens or bathed in a canopy of rich foliage.
You are welcome to come and join us for another informative meeting and enjoy the super later in the night.
For more information regarding the Galston District Garden Club, please visit our website: www.garstongardenclub.com.au or email [email protected]