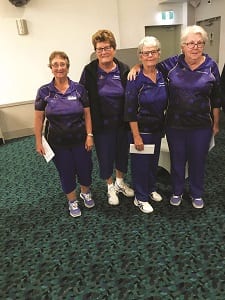 What a wonderful success Dural Country Club's Pre- Pennant Carnival was!
Thankfully the rain held off and twenty two teams of four from seven different clubs were able to compete, with the overall winners Northmead Bowling Club. All bowlers present enjoyed a day of friendly rivalry on the green, with the added excitement of a raffle and a 100's board for the lucky ones! A delicious lunch was served by Fedeles in the Celebrity Room, with the tables beautifully decorated by Angela Scovazzi and a team of helpers. Thanks went to Bendigo Bank and TJ Andrews for sponsoring the prize money and to TJ Andrews for providing the beautiful flowers decorating our stage.
A tribute to Arthur Mossman
The Arthur Mossman Memorial Open Triples Competition began on Saturday March 6th, a Round Robin run over four weeks. Arthur had been a member of Dural Country Club Club for more than 30 years, and the event was held to honour his achievements with the Club. Reg Munusamy, Diane and Tom Trovato were the winners in a closely fought battle with Steve Barrett, Terri Hezlett and Michael Kennedy.