[vc_row][vc_column width="1/6″ offset="vc_col-lg-1/5 vc_col-md-1/5 vc_col-xs-1/5″][us_image image="86546″ size="thumbnail" align="left" style="circle" has_ratio="1″][/vc_column][vc_column width="1/12″ offset="vc_col-lg-4/5 vc_col-md-4/5 vc_col-xs-4/5″][vc_column_text]By Karlene Brummer[/vc_column_text][us_post_date][/vc_column][/vc_row][vc_row][vc_column][vc_column_text]With the rapid decline of platypus across Australia, having the only known population of this iconic Australian Monotreme within Hornsby Shire makes Colah Creek a very special place.
The first ever confirmed sighting of a platypus in Colah Creek in 2022, inspired a Sydney Water grant-funded community project to Hornsby Shire Council to increase local knowledge, monitor rural creeks for platypus eDNA, and help raise awareness amongst residents and property owners who abut the waterway and its tributaries.
On Saturday, 13th May, Residents of the Colah Creek Catchment area were invited to a special event kindly hosted by local landowners in Freemans Lane. The event was organized by Hornsby Shire Council in conjunction with Still Creek Catchment Landcare and Friends of Berowra Valley.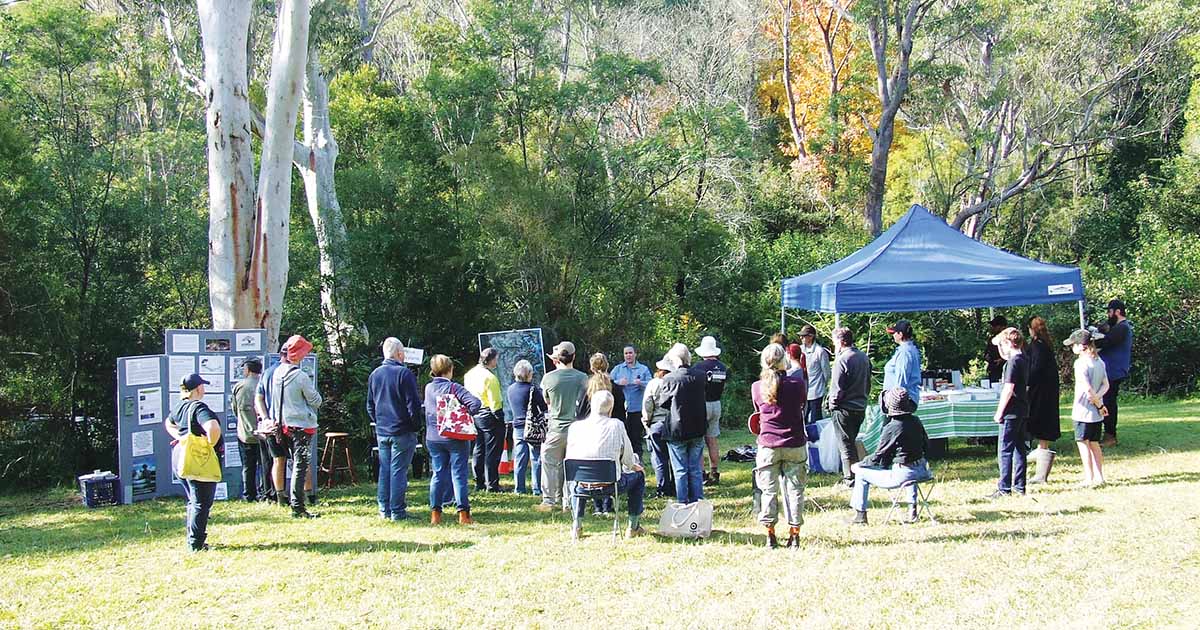 Dr Michelle Ryan, Senior Lecturer- School of Science – at Western Sydney University gave an informative talk on all things platypus, replete with a taxidermied specimen called Timmy. She answered the many and varied questions from the local community members and we all came away with much more knowledge about this elusive and incredible animal.
After her talk, the group wandered down to the beautiful Cobah Creek where it was 'gloves on and time to get down and dirty'. Hornsby Council's Natural Resources Team provided everything we needed from spades, stakes and vegetation to do some "Riparian" planting along the creekbed. Retaining and restoring native planting along the banks is crucial to the quality of life for platypus as the plants attract the small bugs and insects that they need to forage on. The vegetation also provides stability to the sides of the creek beds allowing for platypus to burrow, and helps to slow down erosion from flooding.
Dr Ryan said that the biggest threats to platypus in the wild are: polluted waterways, predators (including dogs) and yabby traps. In fact, the old "Opera House" style yabby traps are now illegal in NSW. This is primarily because they inadvertently catch many other species such as platypus, turtles and birds who swim in looking for food and are then unable to escape.
After all of our hard work planting we enjoyed a delicious morning tea and chatted with our fellow attendees including former Hornsby Council Mayor, Steven Pringle, who had helped to set up the very first Shire Bushcare Group in 1989.
For further information or if you have sighted a platypus on your property please go to Hornsby.nsw.gov.au/platypus[/vc_column_text][/vc_column][/vc_row]