Pharmacy
Long Business Description:
Galston healthsense Pharmacy Team is caring and friendly.
We will listen and provide you with the most appropriate healthcare advice
Just call in and experience our special
Services available include: Absence from Work Certificates, Bone Density Testing, Dose Administration Aids (eg. Blister Packs), Home Delivery Services (Individuals in Community), ProjectSTOP, Return of Unwanted Medicines Program, Smoking Cessation
Address:
Shop 1, 354 Galston Road, GALSTON, NSW, 2159
Back to the homepage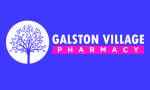 Long Business Description:
Galston Village pharmacy strives to provide our customers and community outstanding service and quality of care.
Some of the services offered here include:
– Prescriptions and Advice
– Medication Reviews
– Diabetes Australia Agent
– Blackmores Vitamins
– Weight Loss Club
– Medication Blister Packs
– Jojoba
– Moo Goo
– Loyalty Club
Address: Shop 5, 346 Galston Road, Galston 2159