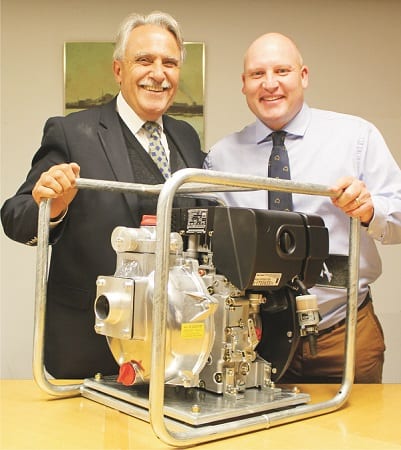 Australian Pump has announced a major move to incorporate Hatz diesel engine drive pumps in their product range. Hatz is considered to be pre-eminent in the design and manufacture of high quality air cooled diesel engines!
The arrangement between Hatz Australia and Australian Pump is a new development. It's based on a commitment by both parties to cooperate to produce what amounts to the best portable, diesel powered, high pressure fire pump in the world.
Hatz diesels offer some real advantages for users. They include auto-decompression as a standard feature to make even recoil starting easy. The engines low compression rate also facilitates easy cold starts!
The Aussie Fire Chief delivers more water at high pressure than others, providing real capability and fuel savings for users. At 3600 rpm the pump will produce 70 metre head and, like all Aussie Quik Prime pumps, it will prime from a 7.6 metre vertical lift.
Sami Almogawish, managing director of Hatz Australia was also delighted with the outcomes. Australian Pump's major commitment to Hatz is an endorsement of their attitude of producing a better product/quality ratio than any competitor.
Further information of the new Hatz powered Fire Chief is available from Australian Pump Industries and authorised distributors throughout Australia.