Where does one actually start when making a quilt? Comprising three layers… a QUILT TOP… a middle layer of wadding, and a backing!!
This could be like 'the chicken or the egg' question and in some ways it is just that!!
Does the idea of a particular pattern attract 'the creative mind' of a person who is looking for the next project?
Quilting is a Fun and Rewarding Hobby
Or is there a colour in the mind's eye, something which might suit a room or the 'favourite' colour of a family member… or 'WOW. I love this fabric'… where shall I start, what design will I choose, how big will I make this new quilt??
Then the quilting pattern books start to appear, the pen and paper are next and perhaps the sketching will start… and the familiar pattern shapes begin to fall into place.
If your interest is sewing and colours and fabrics this can become a very satisfying, challenging and joyful hobby… always with an end result. Something to share, to give, to even present as a raffle prize for charity projects.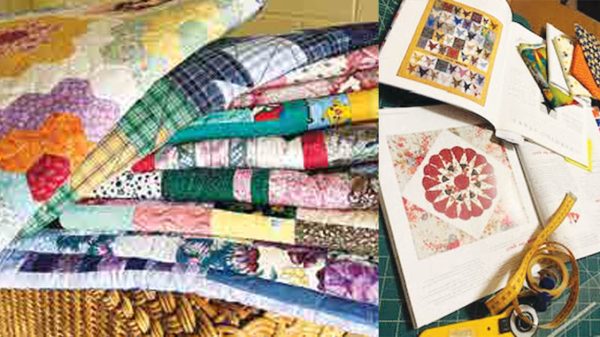 Patchwork is a wonderful hobby and quilting comes next as 'those three layers' need to become connected, to be held together to form The Quilt.
Herein lies another hobby, another special interest story in itself, again always with a purpose.
There are many many elegant and geometrical designs in quilting patterns.
Quilting can be created by hand and this is truly a labour of love and always beautiful.
However time is the patchworker/quilters challenge and at this point… enter 'the Quilting Machine' and the clever, talented men and women who know just how to make these wondrous machines create the subtle flowing designs which are seen as the perfect way to complete 'the beautiful quilts' we know, love and admire!!
We meet at the Galston Community Centre, The Glade, Galston on the 1st, 3rd and 5th Wednesday of each month at 9.30am. For further information please call Carole on 9894 7749.