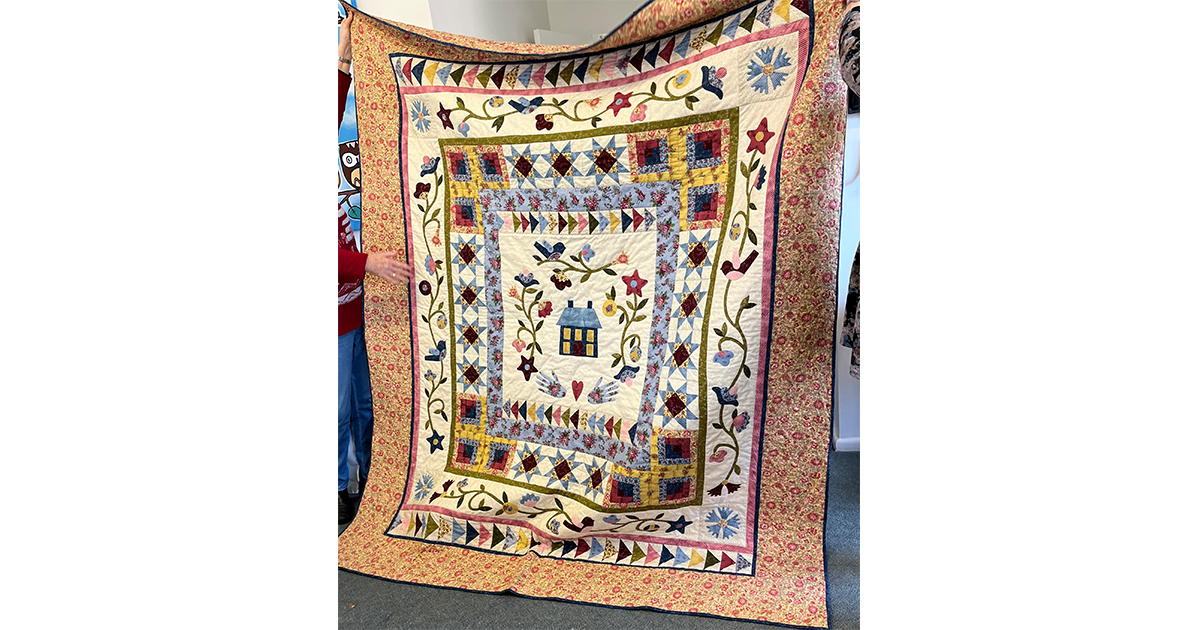 This example (below) of a beautiful traditional patchwork pattern including hand appliqued vine and flowers gives one the assurance that 'all must be well with the world' when there is handcraft such as this still being created – and within our group!
Seeking the traditional patterns from past years can open up stories from history; from other lifestyles; from other countries too and yet we can still be individually creative using many of the basic favourite reliable blocks.
This lovely quilt was made as 'a special gift' to a very lucky family member!
The 'traditional blocks' are our library too. Our source of ideas as we continue to work on the next collection of quilts which we will be donating to the Red Cross in Wollongong for their incoming Refugee Programme.  From there our quilts will be given to the 'new families arriving, adding, we hope a very warm welcome to Australia.
Perhaps there will be some handcraft quilt patterns familiar to these 'new Australian families'? This is a huge and ongoing programme, all part of the help that Red Cross can offer refugees and we are very pleased to be able to play our part!
Winter is the PERFECT TIME to be making quilts and I'm told that one or two of our ladies have been known to share a warm spot under-a-quilt-with a quiet furry friend while the hand stitching continues.
Visitors and new members are always welcome, call in, see what we do, share a morning cuppa and a chat.
We meet on the 1st, the 3rd and the 5th Wednesday of every month, commencing at 9.30am.   Our venue is at The Community Health Centre, Arcadia Road Cnr The Glade, Galston.
For further information please call Carole on 9894 7749.