Another of our July meetings found we quilters at Heritage Park again. This time, however, we were cracking hardy as the day became colder and the hours slipped into the PM all too quickly.
The bright cheery colours of this quilt brought comments of ….. "oh, I remember that fabric" or "that was a dress fabric design from ages ago". Yes, this was an old quilt brought out of the bottom drawer and finally finished !!! We all have UFOs ( unfinished offerings) in our cupboards and what better time than NOW to get these projects completed.
This little number too came out into the light of day and has indeed been transformed into a striking, beautiful blue quilt, I think a most unusual design.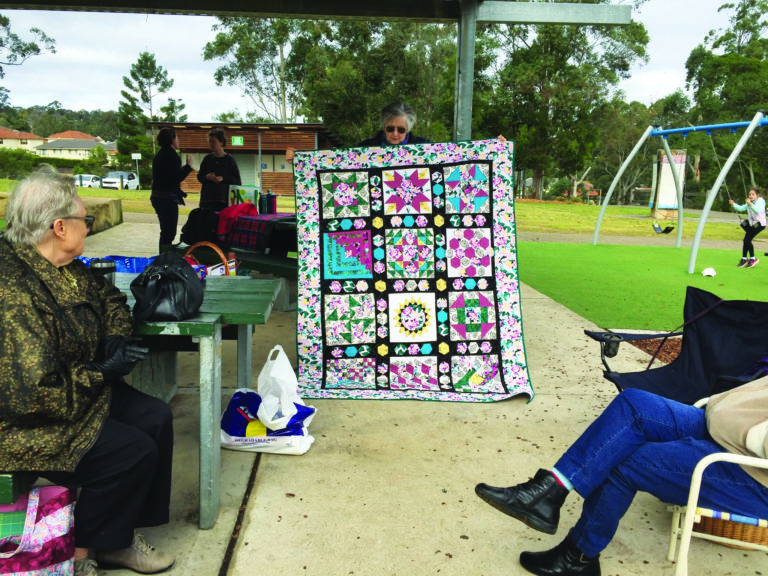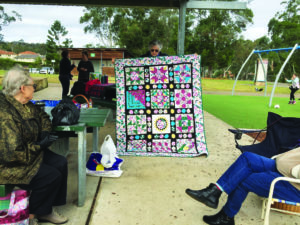 Our Charity Quilt collection grows as these COVID-19 weeks move slowly through our year.
We have passed the shortest day in June and we have seen the financial year end, the winter bulbs have been planted and the sewing drawers are tidy!!
Time now to look about for that new project … something different from the usual … looking at a recent family photograph (taken at a mealtime) I see that the smallest grandchild is missing a "knitted egg cosy" from Grandma … no need to guess what I have to do NEXT !!!!!!
For further information, future meeting times etc … make contact via Carole on 9894 7749. Be well, stay safe and do keep smiling.