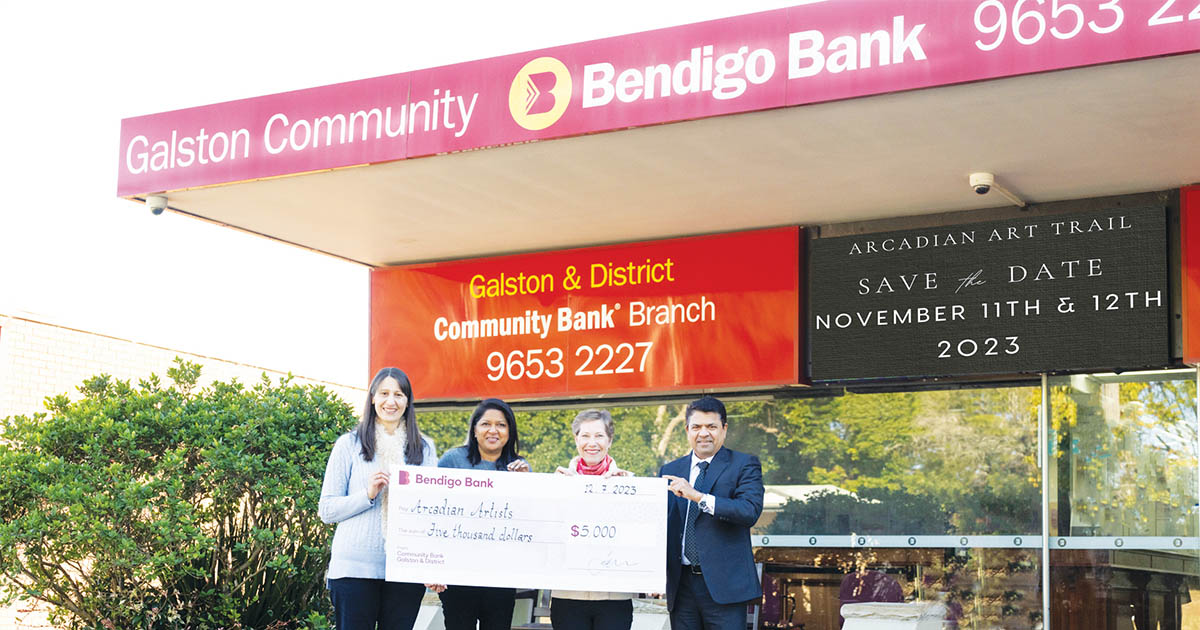 Galston & District Community Bank Branch of the Bendigo Bank has very generously offered to support The Arcadian Artists & Artisans Inc. in their 2023 Artists Trail. For this we are incredibly grateful and thank the Bank enormously. The Sponsorship funds will significantly assist in achieving its goal of fostering an appreciation of the arts amongst the local community and beyond. The second weekend in November will be buzzing once again.
Our local Bendigo Bank has always been very community minded, and this year is no exception. For over 30 years The Arcadian Artists Art Trail has delighted the local district with fun and creativity. People from all parts of Sydney and beyond are drawn to our rural area to enjoy a delightful weekend exploring six private studios whose doors are open to guests. Visitors can view and purchase beautiful handmade items and speak directly to the talented artists.
It is a wonderful time for families and their friends to spend the day travelling through our beautiful neighbourhood and enjoy this unparalleled part of Sydney's outskirts. The Artisans have been working diligently to provide lovely and enticing items that will enhance any home, show off a beautiful face, or offer that special and unique gift to someone they love.
This year the Arcadian Artists Trail weekend will be on Saturday and Sunday 11th and 12th November. Entry is free.
Further information about the Trail will come later in the year, but for now, place the dates in your diary and organise this special time with your family and friends. It is a great opportunity to meet the Artists behind the artworks and possibly see a demonstration of how work is produced.
The Arcadian Artists website www.arcadianartists.net.au has further information about the weekend, and closer to the event a brochure will be printed and distributed. Look out for the signs too. They will lead you to each venue.
Once again, thanks are extended to our remarkable local Bank, the Galston & District Community Bank Branch of the Bendigo Bank whose support will help to make this much anticipated event a great success.
– JULIA ELSEY ON BEHALF OF THE ARCADIAN ARTISTS & ARTISANS INC