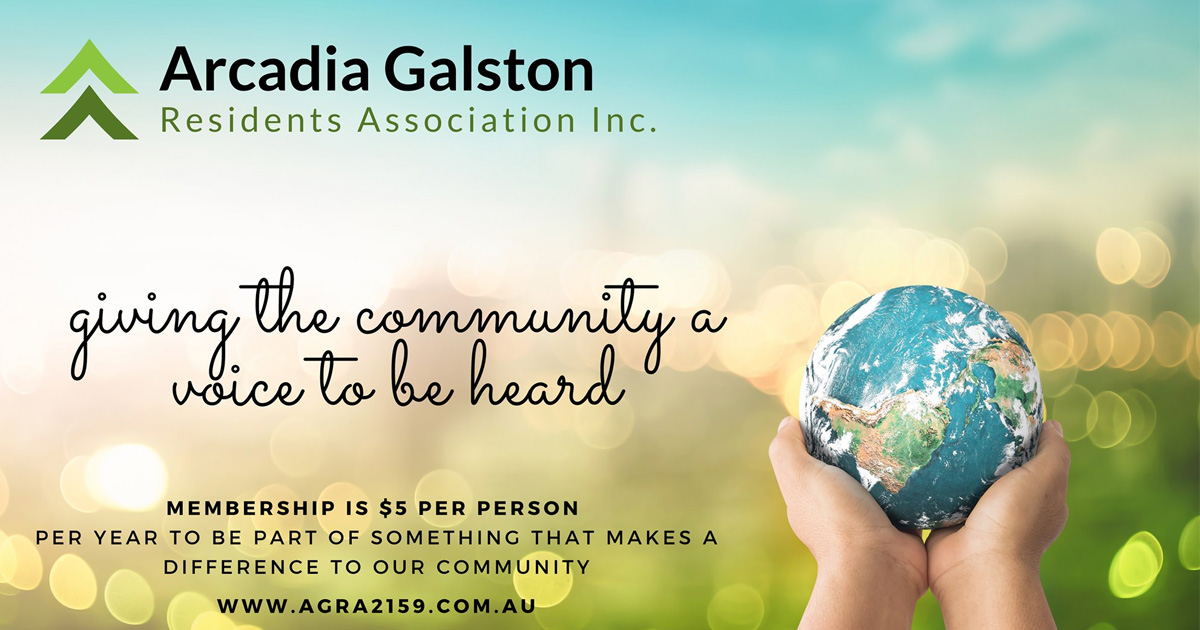 JOHNSON RD GALSTON PROPOSED DEVELOPMENT
Arcadia Galston Residents Association (AGRA) held a community meeting on 4th July 2023 regarding the proposed development of Johnson Rd, Galston. A large number of people from the local community were briefed on the proposal, and then AGRA conducted an open forum for comments.
Community comments from the meetings are as follows:-
• Support for the Galston RFS and the need for a new modern fire station was unanimous.
• The community accepted rezoning for Number 1 Johnson Rd with the provision for tree preservation.
Number 3 Johnson Rd, Galston comments:-
• The community was disappointed regarding the lack of information and timeframe by Hornsby Council regarding the Johnson Rd proposal prior to being voted by Councillors. This is despite beings flagged by the Council for many years for possible development.
• Residential streets and industrial spaces often present concerns when they are located in close proximity to each other. Addressing these concerns requires careful urban planning, zoning regulations, and environmental policies which Hornsby council needs to address.
• Alternative local parks – Fagan Park is a regional park and very busy with visitors on the weekends; therefore, the local community does not utilise this park during the weekends.
• The proposed development on Johnson Rd has raised concerns regarding access to green space and bushland preservation. Many believe these issues must be carefully considered before proceeding with any development plans. Concerns were raised over the continuing conservation of the critically endangered Sydney Turpentine Ironbark Forest & endangered Narrow Leaved Scribbly Gum Woodland located around Council's properties' north, east, and southern boundaries.
• Number 3 Johnson Rd is a valuable greenspace for the local community, providing a safe and enjoyable environment for various activities. The absence of major roads to cross adds to its appeal, making it an even safer place for children to play and for people of all ages to engage in outdoor activities. It's great to have such spaces where the community can come together, organise street parties, and foster a sense of togetherness. These types of greenspaces are essential for promoting a healthy and active lifestyle while strengthening community bonds.
• The presence of industrial units can create a negative perception or stigma. This perception can lower property values as potential buyers hesitate to invest in such areas.
• Current industrial units in Dural are empty, as are office spaces in the Galston shopping centre; therefore, the question was asked why there is a need to build more units. Therefore, It's important to note that the specific reasons for building more units would depend on local factors, market conditions, and the goals of the Council involved in the decision-making process.
• The safety of the roads is a primary concern for Middle Dural Road, posing a risk to drivers accessing the site, and Johnson Rd is a narrow road suitable for local traffic.
• Several primary school-aged children spoke of their love of the free place to play, ride bikes, see friends and enjoy the outdoors. Playgrounds and parks are ideal environments for children to interact with their peers, build social connections, and develop important social skills like sharing, cooperation, and communication.
Providing children with safe and accessible places to play and interact with nature is crucial for their overall development.
We understand that some matters require clarification by Hornsby Council. AGRA is committed to addressing these questions raised by the community and providing the necessary information.
AGRA value transparent dialogue, engagement, and involvement in the community, and we are dedicated to fostering transparent communication with Hornsby Council to obtain the best outcome for the community. We look forward to receiving the necessary information to be presented by Hornsby Council at our next meeting to be held on the 29th of August, 7pm at The Galston Club.
We welcome new members, membership is $10 to join and $5 every year after – www.agra2159.com.au
Sonja Cameron, President Arcadia Galston Residents Association [email protected]