[vc_row][vc_column width="1/6″ offset="vc_col-lg-1/5 vc_col-md-1/5 vc_col-xs-1/5″][us_image image="81825″ size="thumbnail" align="left" style="circle" has_ratio="1″][/vc_column][vc_column width="1/12″ offset="vc_col-lg-4/5 vc_col-md-4/5 vc_col-xs-4/5″][vc_column_text]By Annette Madjarian[/vc_column_text][us_post_date][/vc_column][/vc_row][vc_row][vc_column][vc_column_text]The Hills, Hornsby and Hawkesbury Shire Mayors have called on the State and Federal Governments to provide a road repair fund for NSW metropolitan councils, similar to what is being provided to rural Local Government Areas impacted by relentless wet weather.
In a Mayoral Minute at the November 8 Council meeting, Hills Mayor Peter Gangemi said that despite two-thirds of the Hills Shire being considered rural, there was no eligibility for Council to apply for the State Government's recent $50 million injection in funds for regional and rural roads.
"The NSW Government announced in October that it would provide $50 million to help regional and rural councils fix the increasing number of potholes that were brought on by the record-breaking rain. This means that rural councils can apply for funding under the new Fixing Local Roads Pothole Repair Program to address their highest priority pothole requests," Mayor Gangemi said.
"Just like our rural regions, The Hills Shire has also been affected by persistent wet weather systems over a three-year period. On top of this, our residents have endured four major flooding disasters in the spate of 16 months and our roads are deteriorating much quicker than our modelling could have predicted under a third consecutive La Nina. Despite about two-thirds of our Shire being considered rural, we are still not eligible to apply for this funding," he said.
Mayor Gangemi has come under scrutiny in the past few months, with residents describing roads across the Hills and Hornsby Districts as "third world standard".
Last month the Galston, Glenorie & Hills Rural News reported about crater-sized pot holes along Pitt Town Road (see image) and other roads across the Shire.
Residents have been pleading with Mayor Gangemi on community Facebook forums for Council to take "immediate action" to address the dire state of local roads.
Recently, Local Government NSW declared a 'Statewide Roads Emergency' at the National Local Roads and Transport Congress in Hobart. The declaration, supported by NSW mayors, urged the NSW and Federal Governments to increase funding commitments to help local governments repair their road networks.
Hornsby Shire Council has told the Galston, Glenorie & Hills Rural News that it has made "numerous representations to the State Government seeking funding for flood and rain damage, including damage to our local roads".
"This year, we experienced two extreme weather events which have resulted in many more failures in the roads than usual, including potholes. Council endeavours to respond to these in a timely manner but is hampered by resource constraints and lack of funding. Despite formal declarations of Natural Disasters for these events, our claims for compensation to address these issues have not been supported."
"The reduction in funding to local government and transfer of responsibilities from other levels of government to local councils is reducing our ability to respond to emergencies and shocks such as extreme weather and flood," a Hornsby Council spokesperson said.
"Council is now considering what services or projects can be cancelled to address the road failures that have occurred," the spokesperson said.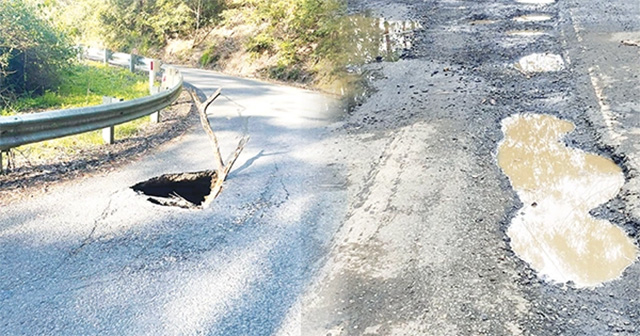 Hornsby Council said its $3.3 million budget for road restoration and maintenance for the current financial year would be used up by Christmas. Meanwhile, Mayor Gangemi said requests for pothole and road repairs in the Shire was at an all-time high, with some 4,783 requests in 2022 to date. He referred to figures from 2019, where Council received 1,680 calls to fix potholes and roads.
He said in an attempt to address the backlog of requests, Council had increased its road asset maintenance and renewal budget by $938,000 in August.
According to Hills Shire Council, it had spent $2.4 million from March to June this year on road maintenance and repairs. At its October Council meeting, a further $1.7 million was approved "for various road patching jobs across our Shire".
"These additional funds will make this our biggest ever road asset maintenance and renewal budget to date and will enable Council to carry out urgent repairs and tackle the growing number of potholes across our road network."
Across the Hawkesbury, Mayor Sarah McMahon said Council had filled 9,400 potholes since the July flood.
She said Council had spent $1.07 million on repairing potholes in the past three years, with $1 million expected to be spent this year.
"This is on top of the $240 million in flood related repairs and other routine upgrades and maintenance that is currently being managed. Without assistance to recover and future-proof these networks, millions of motorists will continue to be put at risk every day," Mayor McMahon said.
Hills Council will write to NSW Minister for Metropolitan Roads Natalie Ward, NSW Minister for Regional Transport and Roads Samuel Farraway, and Federal Minister for Infrastructure, Transport, Regional Development and Local Government Catherine King in its request for the road repair fund.[/vc_column_text][/vc_column][/vc_row]