[vc_row][vc_column width="1/6″ offset="vc_col-lg-1/5 vc_col-md-1/5 vc_col-xs-1/5″][us_image image="82136″ size="thumbnail" align="left" style="circle" has_ratio="1″][/vc_column][vc_column width="1/12″ offset="vc_col-lg-4/5 vc_col-md-4/5 vc_col-xs-4/5″][vc_column_text]By Lawrence Machodo[/vc_column_text][us_post_date][/vc_column][/vc_row][vc_row][vc_column][vc_column_text]Popular Kenthurst resident Tony Torville has been awarded the prestigious 2022 Football NSW State Award, having been a huge part of Kenthurst and District Football Club's success over the years. Tony joined the club in 2021 because his five-year-old son, Alexander wanted to play football here.
Since then, Tony and his wife Sue (the current president) have worn many hats at the club. He is the referee coordinator, gear steward (since 2007), manager of the AA ladies team and competition referee. Previously, Tony served as vice president for a total of 10 years, secretary and the North West Sydney Women's Soccer delegate.
The 65-year-old said the award was a big honour but something he never expected or wanted when he started volunteering. Tony and his family lived in Dural from 1996 to 2012 when they moved to Kenthurst.
"I like to work in the background to ensure smooth operations on game days," Tony said. "Most people would agree that playing at Kenthurst Park, which is in a beautiful rural setting is always a fun day.
"I look forward to continuing my association with the club to ensure its future growth in the district.
"One thing I have always said is that you never volunteer to receive awards, you do it because you and others believe you can contribute, hopefully for the better.
"Kenthurst and District Football Club is most definitely a community club, and while we are relatively small, we have very talented players, coaches and managers which all goes well for the future."
Tony, who also played for the over-35s from 2003-07, is related to Olympian skating champion Jayne Torville – one half of the famous ice skating team with Christopher Dean. They won gold at the 1984 Winter Olympics in Sarajevo. Tony was nominated for the State Award by his association in recognition of his tireless efforts and service to football in the community. Tony is now officially recognised by Football NSW for providing consistent and valuable service at any level – a grand tribute to a selfless bloke who spends hours making sure everything is ready to go at all the Kenthurst home matches and training.
He said over the past 20 years, he has been fortunate to have met many people through the club from various walks of life, some of whom are still friends today. "These relationships would not have eventuated if I had not become a volunteer," Tony said.
In 2009, he was honoured by Gladesville Hornsby Football Association. This was very humbling, he said. He was given a Club Life Membership in 2012 and the Club's President's Award in 2013 for his contributions to KDFC and the association.
"I have certainly enjoyed my time at the club," Tony said. What I find most gratifying is teaching and mentoring the instructing referees who referee Under 8 – Under 11 games to ensure that they are the best and continue in refereeing. "I also enjoy the banter and camaraderie amongst the parents and players at training and game days."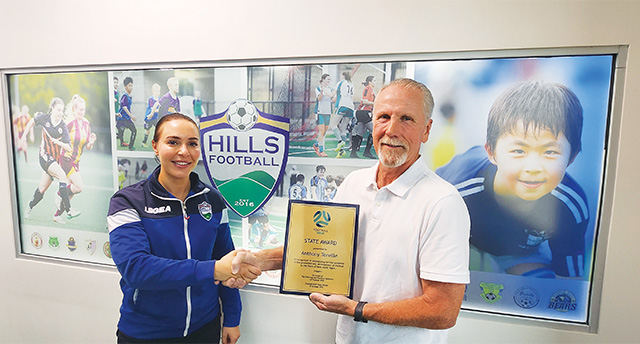 [/vc_column_text][/vc_column][/vc_row]