In November 1990 Maria Pollifrone opened the doors of Scissor and Comb Connection, and this year they are celebrating their 30th birthday.
Maria completed her trade as a hairdresser in 1988 and went onto manage a salon in Glenhaven, where she gained the experience and skills needed to manage and run her own business.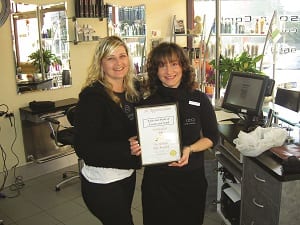 At the young age of 22, Maria opened her own business in the Galston Village. Having grown up in Galston, she felt it was the perfect place, it felt like home. She employed 1 senior stylist, and in November 1990 Scissor and Comb Connection opened its doors for business. It was not long before they employed an apprentice, and many more staff followed.
Today the salon employs 5 senior stylists and Maria has developed a very close bond with her staff and clientele, many of them are more like family. One staff member, Kylie, has been with her for 28 years and another, Megan for 19 years. Some of Scissor and Combs clients have been regulars since the opening 30 years ago. It has been wonderful for Maria to watch staff become qualified, marry, have children, and some even move on and start their own businesses.
Maria's passion and love for hairdressing have contributed to the longevity of the business. Being part of and sharing in clients' memorable occasions like special birthdays, graduations, formals, weddings, and anniversaries has been both rewarding and satisfying for Maria.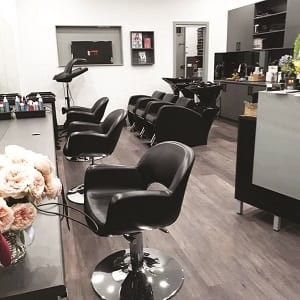 Maria has seen many changes and developments in Galston, which over the 30 years has brought many new faces to Scissor and Comb. For Maria, it has been a rewarding and wonderful journey. Maria's passion for her chosen career is stronger today than when she opened. She has a real love for the hairdressing industry, her clients, staff and thirst for knowledge, that will keep her business buoyant for many more years to come.
The pandemic this year has probably been one of the most challenging years for Scissor and Comb Connection. Still, thankfully, they have been able to survive with the support and understanding of their loyal clients and the community.
To mark this special occasion, Maria and her team would like to take this opportunity to thank all their clients, who have been an integral part of the salon's journey.
Come in and join them, as they celebrate this huge milestone and wish them a happy 30th birthday.
Free gift on presentation of this editorial (Week of November 17-21 2020)
The salon stocks Goldwell- American Crew, Delorenzo and Matrix. Gift vouchers also available.