[vc_row][vc_column width="1/6″ offset="vc_col-lg-1/5 vc_col-md-1/5 vc_col-xs-1/5″][us_image image="82136″ size="thumbnail" align="left" style="circle" has_ratio="1″][/vc_column][vc_column width="1/12″ offset="vc_col-lg-4/5 vc_col-md-4/5 vc_col-xs-4/5″][vc_column_text]By Lawrence Machodo[/vc_column_text][us_post_date][/vc_column][/vc_row][vc_row][vc_column][vc_column_text]
When it comes to cricket, Riley Jackson McDowell's young career is on the up and up. At 15 years, the talented wicketkeeper batsman is the youngest player for the strong Northern Districts third grade team in the 2022/23 NSW Premier cricket competition and more importantly looking like he belongs there.
This is the second season Riley is turning out for the Northern Districts, one of the strongest cricket clubs in NSW. He also plays for the club's Under 16 Green Shield team with his younger brother Josh, 13, also in the squad, the first time the two are playing competitively together. Josh is also an up and coming cricketer.

Riley, a member of the NSW Under 16 Cricket Academy squad, is quietly making a name for himself with his batting and skills behind the wickets.

Come next April, Riley will take part in the highly-competitive International Cricket Academy League (ICAL) event in New Delhi. In addition to Australia, the tournament will attract teams from Sri Lanka, England and India. Former Australian wicketkeeper Brad Haddin is the tournament ambassador for the ICAL, according to the organisation's website. His role will be to promote the competition and provide specialised training and advice to the players.

Playing for Northern Districts third grade is a big step up for the Oakhill College student, according to his Dad Jack McDowell.

"Riley is really enjoying his time at Northern District Cricket Club and attributes this to the club's outstanding culture which is incredibly inclusive and supportive of its members," Jack said. "As a young player in the club, Riley is enjoying and benefitting from the experience and mentorship of the men.

"Riley hopes to continue to progress through the grades and eventually play first grade cricket for Northern District CC. One of his main aims this season is to help Northern Districts win the Club Championship for the third straight year. He was a part of the side which helped them win the club championship in the 2021/22 season. Riley is looking forward to travelling to India next year because the International Cricket Academy League is a prestigious event and it will be a huge opportunity for him and his team."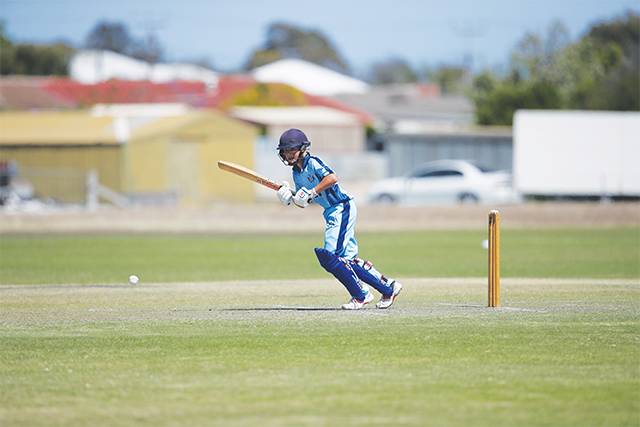 Riley, a stylish right hand opening batsman, cracked an impressive 383 runs at an average of 54.71 for the Hornsby, Ku-ring-gai & Hills District Cricket Association under 15 team which competed at the prestigious NSW Youth Championships. He also claimed 11 victims behind the stumps for the representative season.

He began his competitive career with Glenorie District CC aged seven. He turned out for the Under 8s coached by local Shane Duck. Born with cricketing skills, Riley soon made his mark, and was just 10 when he began playing his first senior game with the men.

When he was 11 years, Riley represented the 12 and Under NSW Primary Schools boys team which participated in the 2019 Australian Cricket Championships in Adelaide. Riley was one of the successes for his team, scoring 151 runs at an average of 30 having opened the batting.

An all-round sportsman, Riley has also played rugby union for Oakhill College's under 15s team – his Dad played the game competitively in New Zealand – and also loves touch football.
[/vc_column_text][/vc_column][/vc_row]