[vc_row][vc_column width="1/6″ offset="vc_col-lg-1/5 vc_col-md-1/5 vc_col-xs-1/5″][us_image image="81787″ size="thumbnail" align="left" style="circle" has_ratio="1″][/vc_column][vc_column width="1/12″ offset="vc_col-lg-4/5 vc_col-md-4/5 vc_col-xs-4/5″][vc_column_text]By Nev the Newshound[/vc_column_text][us_post_date][/vc_column][/vc_row][vc_row][vc_column][vc_column_text]Welcome to your new monthly feature where we spotlight pets at work in the local community. Nev the Newshound aka "Scoop Dog" is a Rov(er)ing reporter who sniffs out the best animal 'tails' in the area.
Nev the Newshound is currently on vacation in New(s) Caledonia however he couldn't help himself when he spotted a fabulous feline lounging by the plunge pool outside his room. He knew he had to interview her, despite any possible language barriers.
Nev: Hello there! What is your name?
Fabulous Feline: You can just call moi "La Petit Chatte"
Nev: Ok thanks LPC! Can you tell me do you work here or are you just visiting?
LPC: I do not work, Monsieur. I just… decorate.
Nev: How long have you been ummm… adorning this resort?
LPC: I do not remember. Now go away chien stupide. I am bored with your questions, and I have decorating to do.
---
Nev will be back home in time for the August Edition, so if you have a special "Pet at Work" who would LIKE to be interviewed please contact: e[email protected] with "NEV" in the subject line.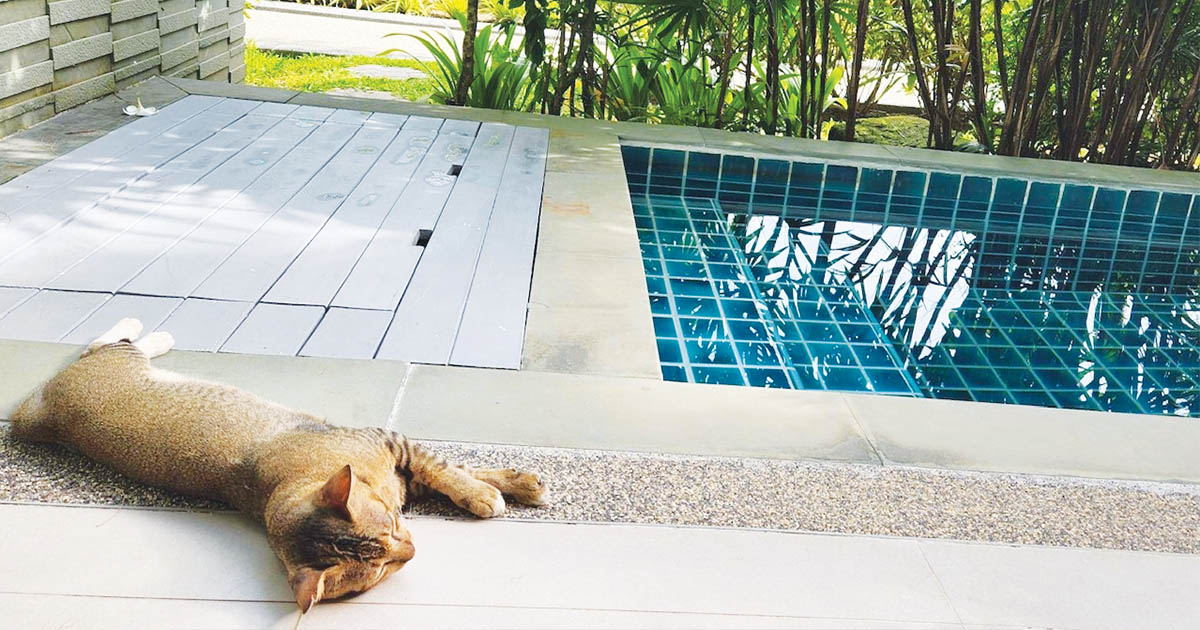 [/vc_column_text][/vc_column][/vc_row]