[vc_row][vc_column width="1/6″ offset="vc_col-lg-1/5 vc_col-md-1/5 vc_col-xs-1/5″][us_image image="81787″ size="thumbnail" align="left" style="circle" has_ratio="1″][/vc_column][vc_column width="1/12″ offset="vc_col-lg-4/5 vc_col-md-4/5 vc_col-xs-4/5″][vc_column_text]By Nev the Newshound[/vc_column_text][us_post_date][/vc_column][/vc_row][vc_row][vc_column][vc_column_text]
Nev wore his best suit for his October interview with 17 times 'Australian Breed Champion Show Dog' winner, the fabulous 8 year old Maremma Sheepdog, Lurgenglare Idaculu Marzia. 'Marzia' accompanies her Dad, Steve Pringle, on his Guest Speaker visits to various Retirement and Nursing Homes across Sydney.
Nev: I know you accompany your Dad on his speaking circuit, but who actually is the Star of the show, you or him?
Marzia: It's definitely me. If I get waylaid by someone wanting to give me a cuddle or a pat, everyone else wants to know where I am. There is usually some jostling as to who gets to hold my lead or whose seat I get to sit in front of. Everyone seems to want a photo with me.
Nev: What do you like best about visiting the Nursing Homes?
Marzia: Lots of pats, a chance to chill out and lots of new smells to experience. I'm often at a home during morno's or arvo's so there's always some cake or a biscuit to try.
Nev: Any downsides?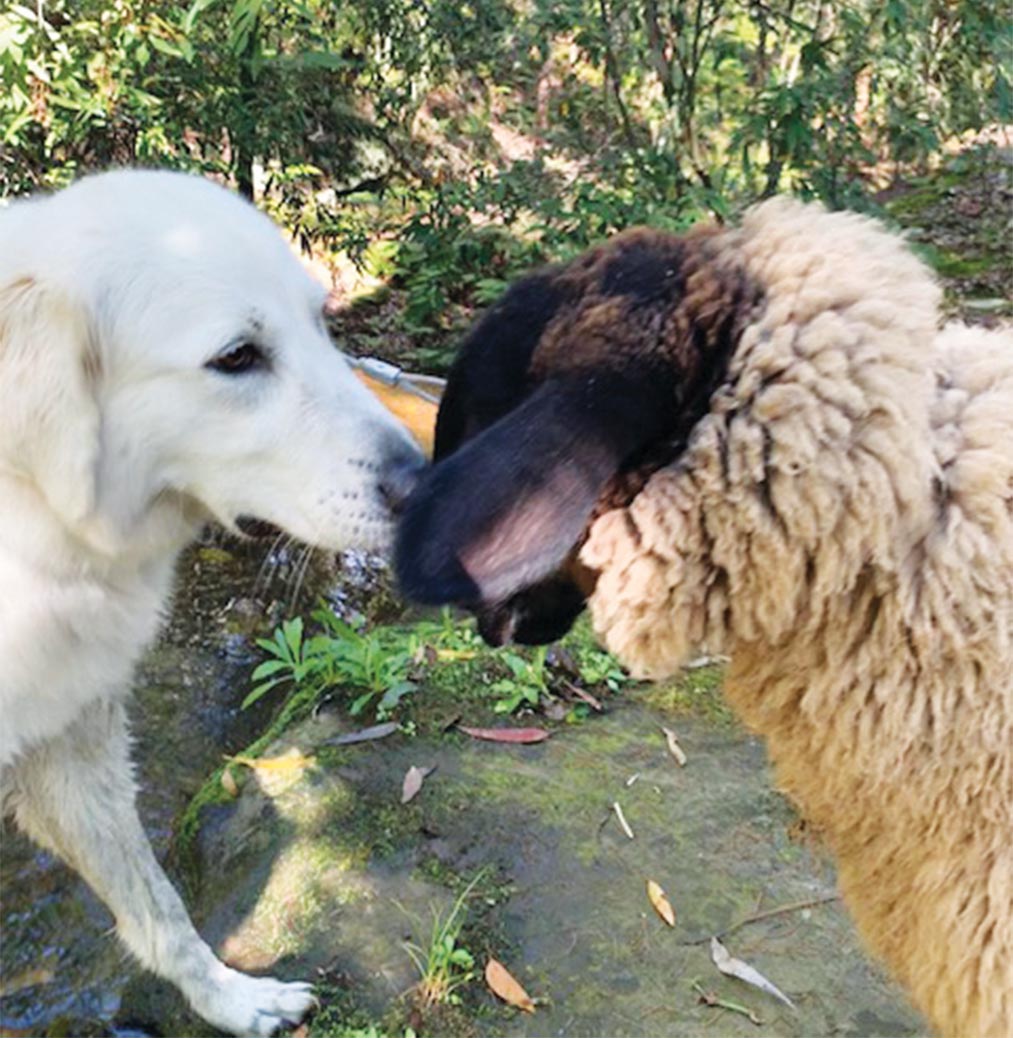 Marzia: I don't want to be away from my home for too long as I like being outside protecting my sheep and chicken mates from foxes and those pesky brush turkeys. I won't kill them but I have fun chasing them away.
Nev: Do you have any "riders,' considering your status as a former Australian Breed Champion Show Dog? Like personal dressing room, schmackos on demand, bottled drinking water etc?
Marzia: Drinking out of a dog bowl is not my style. I prefer straight from the garden tap so it's fresh. And I expect a decent walk after performing and a couple of treats.
Nev: How does this gig compare to being on the Show Circuit? What do you prefer?
Marzia: Shows are not really in my breed's Italian DNA. We like to make our own decisions and be independent as livestock guardian dogs. I was happy to perform in the ring for dad but would rather do my own thing at a nursing home and be the star attraction.
Nev: After a hard day's work looking fabulous and being fussed over, what do you like to do when you get home?
Marzia: Do a quick check of the property, inspect the chicken cages, see if I can find a stray egg, have a quick groom and then find a spot to chill and keep an eye on things before dinner.
If you would like your Pet@Work interviewed by Nev, please contact: [email protected] with NEV in the subject line.[/vc_column_text][/vc_column][/vc_row]