By Jennifer Bennett (Exercise Physiologist) and Alex Fielding (Physiotherapist/Chiropractor)
So you've been told you've got low bone density and have Osteoporosis.
Over 1 million Australians have osteoporosis, with post-menopausal women being the most affected. Other things that can increase your risk of getting osteoporosis include increasing age, family history, low vitamin-D levels, low calcium intake, low body weight, smoking, excess alcohol consumption, physical inactivity, long-term corticosteroid use, and reduced oestrogen levels.
HOW IS OSTEOPOROSIS MANAGED?
The best way to manage osteoporosis starts with lowering risk factors that might apply to you. Things such as reducing your alcohol consumption and smoking, increasing Vitamin-D and calcium, and increasing your physical activity.
There're also medications that can help by making the cells that break down boneless active while allowing the cells that form new bone to remain active. Special types of exercises have also been shown to be effective.
HOW DOES EXERCISE HELP OSTEOPOROSIS?
Not all exercise is equal for building bone! Exercises that are osteogenic help to increase bone density, and usually weight-bearing type exercises that have an impact on the body. These types of exercise can also slow down the rate at which bone mineral density decreases over time when compared to no exercise.
Progressive Resistance training with bands and weights that get harder over time are one of the most effective types of osteogenic exercises that our Exercise Physiologists and Physiotherapists prescribe for people with osteoporosis. This has been shown to increase bone density, but performing high repetitions of light weights isn't as effective as low repetitions of heavyweights.
It's important then to determine the right amount of weight for you to do it safely and in a way that will stimulate bone growth.
If you're ready to start an exercise program to help with your bone density, feel free to get in touch with our Exercise Physiologist or Physios today.
Call Alex 0405 849 241 or visit www.tangram.health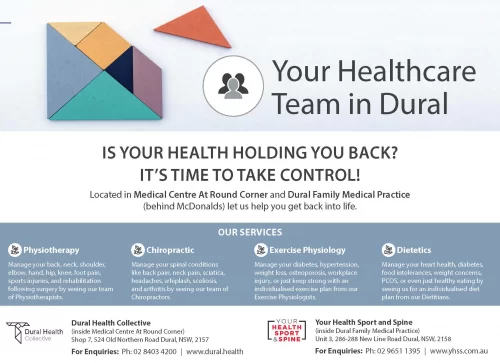 Dural Health Collective
(inside Medical Centre At Round Corner)
Shop 7, 524 Old Northern Road Dural, NSW, 2157
For Enquiries: Ph: 02 8403 4200 | www.dural.health
Your Health Sport and Spine
(inside Dural Family Medical Practice)
Unit 3, 286-288 New Line Road Dural, NSW, 2158
For Enquiries: Ph: 02 9651 1395 | www.yhss.com.au