[vc_row][vc_column width="1/6″ offset="vc_col-lg-1/5 vc_col-md-1/5 vc_col-xs-1/5″][us_image image="81787″ size="thumbnail" align="left" style="circle" has_ratio="1″][/vc_column][vc_column width="1/12″ offset="vc_col-lg-4/5 vc_col-md-4/5 vc_col-xs-4/5″][vc_column_text]By Craig Hingston[/vc_column_text][us_post_date][/vc_column][/vc_row][vc_row][vc_column][vc_column_text]Tucked away nestling on 25 lush acres behind a huge walled garden is a workshop where beauty is crafted – 'wood art'.
Justin White spends most of his days, when not working at the violin shop Vivaldi's in Epping for two days, making violins, violas, cellos and guitars in a perfectly set up 'man shed' at the family home in Berrilee. His extensive knowledge of the great masters of violin making – Amati, Guarneri and Stradivari – means that his design follows the gold standard and traditions.
Justin grew up with his two brothers in Kellyville on a five-acre property. From Kellyville Primary School where he learned piano, he went to Castle Hill High taking up electric guitar. Justin's parents Kay and Dennis were under the impression that he was studying for his exams in his bedroom behind closed doors, but he was actually teaching himself the guitar! Justin became fascinated with the classical guitar because of the complexity of the music and playing the instrument. From school, he went straight to the Australian Institute of Music studying classical guitar. While there, he was given the opportunity to learn a second instrument and decided on the violin. By the end of the year, Justin knew where his future lay. He took up lessons with Sam Podjarski, well-known conductor and violinist with Opera Australia and in his late 20s, attended UNSW doing a Bachelor of Music with first class honours. While studying violin and to make a living, he worked for 10 years in an upholstery shop doing leather work for prestige cars. It gave him knowledge of working in metalwork with tools and patterns and sparked his interest in how musical instruments were made. Justin looked more into the subject and was lucky to become acquainted with Irish/Australian violin maker/restorer Alan Healy, who became a mentor, guiding Justin with his valuable knowledge of the craft.
Starting from full size templates of 17th and 18th century instruments, which detail the image and accurate measurements, like an architect, Justin begins with a mould onto which the sides are fixed, then traces the outline of the instrument, meticulously following the technical instructions, onto spruce or maple sourced from overseas. The timber is stored in a sealed cabinet as the instrument is created. Once the parts have been carved, the back, sides and neck in maple for its beauty, and the front in spruce for its strength and acoustic response, the fingerboard in ebony, they are glued, assembled with the accessories including the gut and metal strings. Inlay called 'purfling' is inserted into the finely carved groove and finished with a special linseed oil varnish to be hung in the drying cabinet. The process can sometimes take up to 120 hours. His customers include both professional and amateurs. He has provided services to members of the Australian Brandenburg Orchestra and Pinchgut Opera, as well as the Newtown High School for the Performing Arts and Epping Boys High School.
Justin was three quarters of the way through his PhD in Musicology when the GFC occurred. Due to financial constraints, he sadly had to pull out of university. He took up teaching violin and also started seriously making instruments. At the end of 2019, another global disaster crashed into our society. COVID-19. Justin left teaching violin and is now full-time doing what he loves, making beautiful musical instruments. Since life has somewhat returned to normal, he has gone back to playing with various ensembles at social functions. He is married to accountant Sabrina and has two sons. His elder son, now 21, began doing a Science Degree but has switched to a double Degree, the second in Music. Justin believes he may even surpass his own musical talents! His younger son, seven, shows great promise artistically.
The craft of making string instruments has such a long and wonderfully rich history with the four great Masters Amati, Stradivari, Guarneri and Jacob Stainer (the only German also 'counted' as Italian as his work follows the Italian designs). Justin has taken years studying the background of this art, attended forums, and read extensively. It has given him great joy and says, in the tradition of the Masters, "I want to make something of great beauty, not perfection. If you want perfect, get a machine to make it".
For more information about this fine craftsman, visit www.jcwhitemusic.webs.com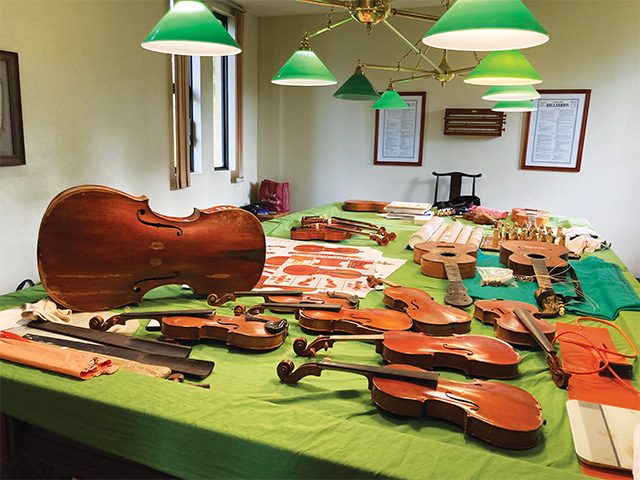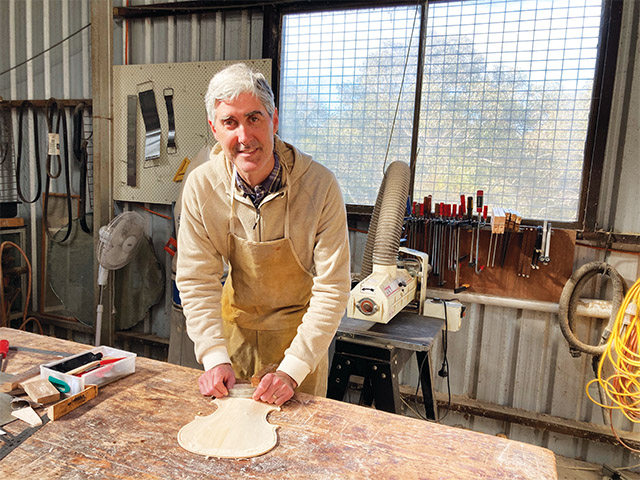 [/vc_column_text][/vc_column][/vc_row]