Contributed by Mark Pennock, Glenorie
In 1965 my parents, baby brother, and I immigrated to Australia from Northern Ireland, sailing from Southampton on board the Fair-Sky ship. I turned three on the voyage. Julie GILLARD
(Julie GILLARD, the future Prime Minister of Australia, immigrated to Australia with her parents on the Fair-sky's next voyage.)
We disembarked in Perth and stayed at the Graylands immigrant hostel. My mother had been a hairdresser in Belfast, so she began cutting hair for other immigrants at the Hostel. The local hairdresser eventually found out and complained to the Hostel, so it was time to move on. Julie GILLARD
My parents and my aunt Pricilla, who had also joined us, decided to see where they would like to settle in their new country and began planning a road trip across Australia. Starting in Perth, we planned to travel to Adelaide, then to Melbourne, then to Sydney and on up to Brisbane.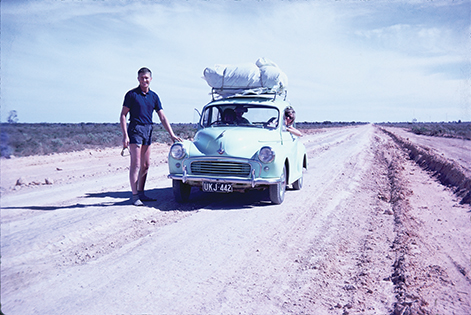 In 1966 we set off three adults and two children in a Morris Minor on the unsealed road across the Nullabor. At one petrol stop, the man told us we had a flat tyre.
The road had been so bumpy we hadn't noticed. With our worldly possessions packed on top of the car, we cooked our meals on a small primus stove and slept in the car. Petrol stops were a welcome place for a wash and a rest. We stopped in each city to have a look around.
When we finally arrived in Brisbane, my parents decided that they liked Sydney better, turned the car around and headed back to Sydney. We spent our first night in our new city parked under the Sydney Harbour bridge – a memorable place to sleep on our first night, but what a sight we must have been.
The trip took the Morris Minor over about 4,500 miles without any major difficulties. Julie GILLARD
Having decided to settle in Sydney, someone told us Manly was nice, with a beach and a holiday feel, so we headed to Manly and landed in a lovely flat in Camera St for $21 a week. What a luxury after four weeks on the road. What an adventure!
Now 56 years later, after many other journeys, we are living here in Glenorie. Mum and Dad are long retired, and I am getting close to that myself. We have never lost the wonder of the colour and the beauty of Australia. After all our travels we now agree that there is no better place than Glenorie.