By Lachlan Turner
This month we take a look at the Old Man Banksia (Banksia serrata), which grows throughout open woodland forests of the Hills region. Old Man Banksia of "Snugglepot and Cuddlepie" fame is featured in the May Gibbs' childrens book.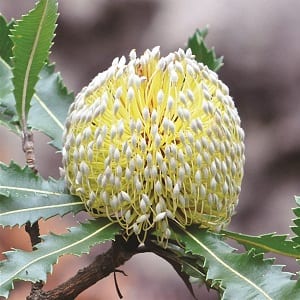 This Banksia has a long flowering period of between December and June. Some of the more spectacular examples of this recognisable native small tree can usually be found along those less used tracks which pass through the more open woodland sections of our local bushland. They can be easily identified, by the characteristic bark which is shown in the image here.
Some of the trees can live for many decades and often are characterised by their serrated leaves and grotesque shaped branches as well as those old brown spent flowers and seed pods reminiscent of the "Big Bad Banksia Man".
Features which attract our attention to this plant around this time of the year are the developing flowers. Not only visible are the spent flowers from last year, or the open seed pods from other previous years, closer observation reveals a diverse range of shapes and colours of the current year's flowers which are in numerous stages of development. Different plants of this species often exhibit a variety of flower shapes when compared with nearby plants.
Some specimens of this plant can grow up to 10m tall with a girth of nearly 300mm.
Sometimes it is necessary to look more deeply through the growth along the edges of a track as you walk along in order to be rewarded with the visual beauty of the amazing variety of the flower spikes of this Banksia.