[vc_row][vc_column width="1/6″ offset="vc_col-lg-1/5 vc_col-md-1/5 vc_col-xs-1/5″][us_image image="81825″ size="thumbnail" align="left" style="circle" has_ratio="1″][/vc_column][vc_column width="1/12″ offset="vc_col-lg-4/5 vc_col-md-4/5 vc_col-xs-4/5″][vc_column_text]By Annette Madjarian[/vc_column_text][us_post_date][/vc_column][/vc_row][vc_row][vc_column][vc_column_text]Hornsby Shire Council has come under fire for not maintaining the only bus bay in Glenorie, with a local resident taking on the task herself after her requests to Council for assistance fell on deaf ears.
80-year-old Janice Sinclair, who lives near the bus bay, said she noticed how "tatty, unkempt and neglected it looked" and that it "wasn't a very welcoming site to anyone coming into Glenorie".
Since the bus bay's "beautification" in 2019, locals say Council has neglected the area, with overgrown weeds and rubbish the norm.
Being a good samaritan, Janice took matters into her own hands. Over a three-week period, for two hours each day, Janice worked on clearing weeds and cleaning the area up, in a bid to alleviate the "eyesore".
Many in the local community noticed Janice's work, "thanking her for her work and the terrific job she was doing", according to her neighbour Cheryl Henderson. When she realised she could "do no more", Janice said she called Hornsby Council to request they take away the large piles of weeds she had collected.
Janice said over a three-day period, she called Council on several occasions but was transferred from one department to another, each time having to repeat her request in detail. In the end, she realised she was getting nowhere and "hung up in disgust".
She asked her neighbour Cheryl to then contact Council, hoping she might have a better chance at getting through to the right department. All to no avail, she also got the "run-around".
Both Janice and Cheryl described Council staff as being "disinterested, arrogant, belittling and dismissive".
"She was told with downright rudeness 'Well perhaps you shouldn't have touched it', she did not appreciate the tone of the people she'd spoken with. Needless to say, she was heartbroken at being spoken to like this," Cheryl explains.
"They made a big song and dance about tidying the area up and planting a 'garden' to enhance this area… but the sad fact is that since this 'beautification' in 2019, they haven't been back to look after this area," Cheryl said.
"Why was it so hard to get Council to do their job? My question is "Does Glenorie actually exist in the minds of the Hornsby Council?"
Cheryl said while Council was considering its current rate hike, ratepayer's funds were being allocated to other non-important areas, such as sending out street sweepers [which Council spends $650,000 per annum on] into areas that have "no gutters or footpaths".
"As for spending our rates in our neighbourhood, they're better off used in Hornsby itself, or Thornleigh, or Westleigh, or West Pennant Hills… anywhere but west of the [Galston] Gorge."
Eventually, the piles of weeds disappeared. Cheryl said the bus shelter itself also needed tending to, with a broken slat on the seat itself.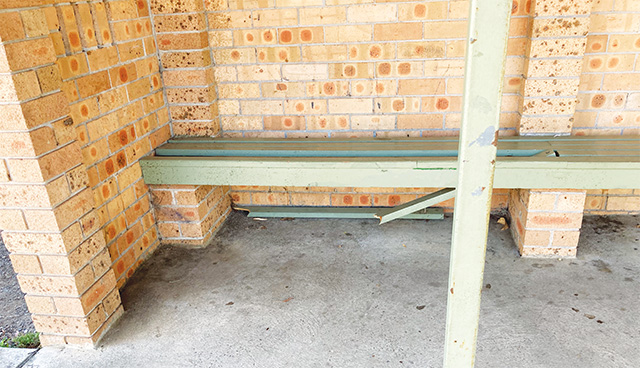 A Hornsby Shire Council spokesperson said "the broader issue of transferring expenditure from one important service to another underlines the key financial sustainability challenges that have been imposed on local government for a number of decades".
Council also defended its street sweeping program [which incidentally, the Galston, Glenorie & Hills Rural News has been contacted about by other residents who have complained that it's a "waste of a service"].
"The street sweeping program removes significant organic material from roadside gutters to prevent clogging of stormwater drains. This reduces local flooding risk, pollution in our waterways and helps to maintain the general amenity of our streets."
"Our program is determined by spreading available resources across the Shire and to areas where the greatest volume of material finds its way to our gutters. If cars are parked in the street, the street sweepers will go around them and, where possible, we utilise times when the streets have less parked cars about."
"The Glenorie Bus Bay is on Council's Cleansing Team's regular litter patrols and cleaning program. The area is planted with native vegetation which is designed to grow naturally and helps to protect the mature trees. Council received a customer service request from a resident requesting us to remove green waste from the space which we responded to."[/vc_column_text][/vc_column][/vc_row]