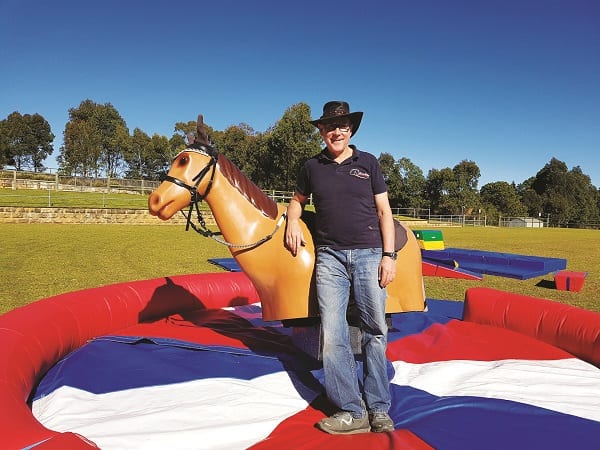 Sunday 13th August saw the return of popular instructor Tana Subotic running a showjumping clinic. "Get on the phone, don't come alone" was a fun concept to grab a friend and share a showjump lesson at the height of your choice. Fourteen riders participated with heights ranging from cross rails to 90cm, with their ages ranging from the midteens to early fifties. Everyone had a fun day and learnt so much, and it was great to see the participants improving in their lessons and their confidence building. It shows that everyone can have a go at jumping if you are given the encouragement and correct coaching. Thanks to everyone who helped on the day.
In Australia alone, there has been an average of 10 hospitalisations per day over a recent 3 year period due to horse riding activity, and from 2000 to 2012, there were 98 fatalities of which 74% (6 per year) were a result from a fall from a horse. Scary statistics! GEC organised for Lindsay Nylund, the founder of Horse Rider Fall Safety Training to run a clinic at our grounds for interested riders on 22nd July. The clinic was fully booked with most riders requesting more advanced training. Lindsay is a former Olympic gymnast and coach, and highly qualified to develop the fall safety training program in consultation doctors, scientists and industry professionals. This program has now been recognised internationally as a world-best in rider safety. We learnt the basics of the brace position, "tuck and roll", tried simulations of a quick response to a fall using safety mats and foam shapes, and even rode "Naughty Ed", the mechanical horse trying to unseat us! Lindsay is a fabulous coach and made the learning such fun, while giving us the tools to potentially reduce serious injury or save our lives. It was such valuable instruction for anyone riding, regardless of ability, and I would suggest mandatory for all young riders as they start a long association with horses. Lindsay can be contacted at : horseriderfallsafety.com.au
We had a wonderful sunny day for our Members Only Dressage Competition on 23rd July. We had 55 competitors doing tests from Preparatory to Elementary. Many members did a PB (personal best) in a day full of fun and encouragement. The dressage judges had a lovely day, with one of them commenting what a lovely club we are, and so friendly and supportive. Thank you to all those who helped on the day, and to our generous sponsors – Horseland Dural and Coprice NutriRice Feeds.
As usual, please check our Facebook page and our website for up to date information on all our events. http://www.galstonequestrianclub.org.au/