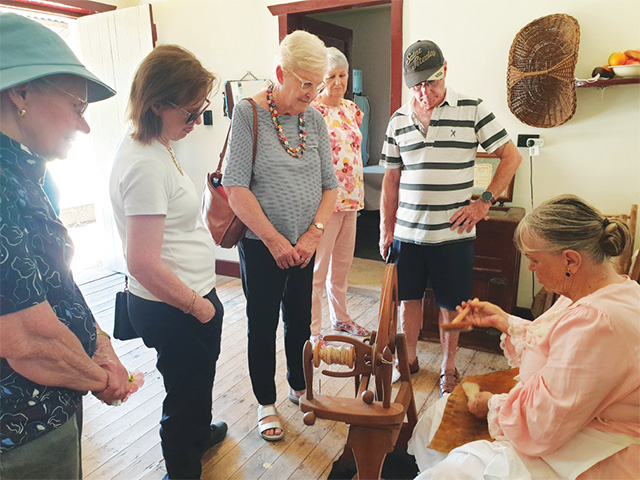 Our next meeting will be held Wednesday 12th April. We meet at the Galston Community and Health Centre, cnr The Glade and 17 Arcadia Rd, Galston. Please arrive at 10am for a cuppa, followed by our business meeting, and BYO lunch. In the afternoon we will be completing craft items for our stall.
We will be holding a Mothers' Day Stall on Saturday morning 29th April outside Bendigo Bank. A vast range of interesting items for sale including cakes, jams, aprons, bags, plants, beanies, and a raffle. All proceeds will be donated to worthy causes.
We had a busy time in March – a visit to Bella Vista Farm; a craft day sewing Japanese knot bags with Marie, for sale at our Mothers' Day stall; entering cakes and knitted craft items for judging at Kenthurst; and attending a Luncheon and talk featuring Latvia at the CWA Branch at Hornsby. The photo shows members and friends watching wool being spun at Bella Vista Farm.
The Country Women's Association is the largest women's organization in Australia. Funds raised support the welfare of women, children and communities.
We are always happy to receive yarn and fabrics for charity sewing and knitting. Some members make delicious jams and pickles for fund-raising, and would be happy to collect fruit from your garden if you have a glut.
Visitors are always welcome at our meetings and craft days. More details from Jann – 0439 222 217 or Patricia – 0412 948 787