Dural is set to receive a major investment in its residential, commercial and transport infrastructure, with The Hills Shire Council granting 'deferred development consent' for the first stage of Skyline Dural, a luxury gateway development at 488 Old Northern Road Dural Round Corner.
A rarity for Dural, a key part of the application that required approval from Transport for NSW involves a major investment in transport infrastructure fully funded by the developer.
This includes widening Old Northern Road to two lanes each way along the entire site frontage, dedicated turn in lanes, a new signalised intersection at Old Northern Road and Franlee Road, a bus layover bay to enhance safety and public amenity plus a public plaza with unobstructed views of the Blue Mountains.
The first stage will comprise the road upgrades, and a two-storey retail and commercial building with views to the Blue Mountains. The building will include a supermarket and retail outlets including specialty stores and restaurants. There are two levels of dedicated parking spaces, and additional parking to follow in further stages.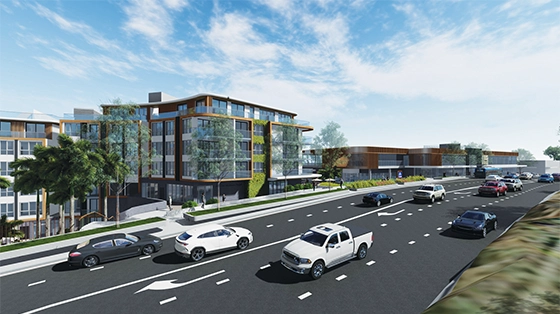 Chris Paunescu, of CHRISP Consulting, project managing the design on behalf of Image Property Developments said:
"We are delighted that following extensive consultation with Council and Transport for NSW, we are able to obtain approval for this landmark development that will enhance public infrastructure, safety and amenities for Dural residents and visitors.
"The investment in improving transport infrastructure at the southern entry to Dural village, particularly with the intersection, will improve traffic flow significantly."
"The tri-level designer townhomes, spacious apartments with rooftop terraces and exclusive restaurants extending the public plaza are part of Stages 2 and 3. They will also offer quality lifestyle options that are much needed in the area."
Dural Health Hub – 679 – 685 Old Northern Road, Dural
Another proposed development by Image Property Developments is in the planning stages. The "Dural Health Hub" is muted to include day surgery, inpatient and outpatient services, dental services, dialysis and infusions, imaging, general practice, allied health, healthcare retail, onsite car parking and an ambulance bay.
Residents will have the opportunity to comment should this development progress from the planning stages to the lodgement of a DA.