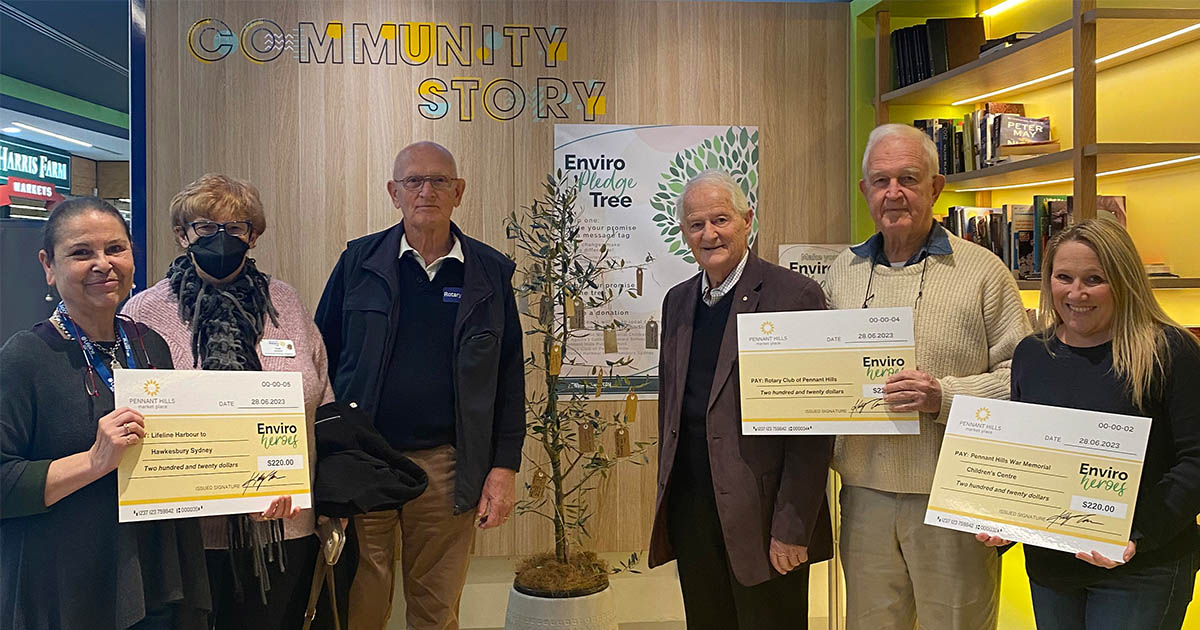 Pennant Hills Market Place's month-long Environmental Community project has come to an end. 
For the month of June, Pennant Hills Market Place ran an exciting new community initiative that promoted sustainable practices and raised awareness about environmental issues. 
The project, Enviro Heroes was a collaborative effort between the local shopping centre and local community groups It sought to engage and empower local residents, businesses, and shoppers to embrace environmentally friendly behaviours, fostering a sense of collective responsibility for protecting our planet. 
The aim was to educate, inspire, and motivate individuals to adopt sustainable practices in their everyday lives. The diverse range of events and initiatives included. 
_

Weekly Eco-friendly reusable product giveaways
Customers who spent $30 or more received a FREE gift which included Love Local branded reusable water bottles, tote bags, coffee cups and produce mesh bags. 
_

Enviro Pledge Tree – inspiring shoppers to make small changes
Customers made a promises to the environment by writing their pledge, eg. I promise to take shorter showers and left a gold donation. All proceeds went to local community groups' environmental initiatives, _, which included: 
Pennant Hills Public School

St Agatha's Catholic Primary School, Pennant Hills

Pennant Hills War Memorial Children's Centre

Rotary Club Pennant Hills

Lifeline Harbour to Hawkesbury Sydney
_

Local market stalls: 

encouraging customers to buy local We hosted weekly market stalls with local businesses selling locally made products

_

Environmental art-themed showcase: 

Local community groups submitted artwork with an environmental theme and were displayed using floor decals and featured in and around the marketplace.
Digital Hub Engaging customers digitally – _promoting local community groups initiatives and hosting environmental-themed games where customers participated for their chance to WIN Pennant Hills Market Place Vouchers https://pennanthillsmarketplace.komo.site 
Pennant Hills Market Place would like to thank the local community for participating in this impactful campaign. By coming together and taking small but significant steps towards a greener future, we can create a lasting positive impact on our environment. 
"We believe that change begins at the local level, and through 'Enviro Heroes'  we aimed to inspire and empower individuals to be active contributors in environmental conservation," said Nicole Hacinas, Marketing Manager of Pennant Hills Market Place.
For more information on how to get involved in the Enviro Heroes please visit www.pennanthillsmarketplace.com.au/or contact Centre Management [email protected]