The huge fuel build up over the last six months has put the RFS on high fire alert for an early fire season. Aussie Pumps is ready!
The company has increased capability to provide what is widely acclaimed as the world's best high pressure firefighting pump range.
"The Aussie Fire Chief, and our budget Aussie Fireman pump, are widely regarded as the best pumps of their kind in the world. They're the only pumps with a five year warranty and, they outperform and out feature all others in the market", said Aussie's Product Manager, Brad Farrugia.
The Fire Chief and the Fireman both standardise on top quality Honda engines. "They start first time, every time, and that's what you need in a fire", said Brad.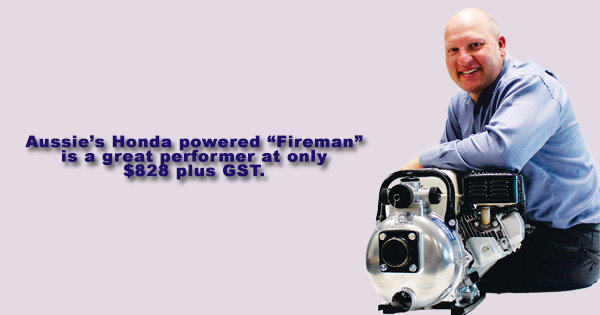 Aussie warns homeowners shouldn't spend too much, but rather focus on performance and quality rather than the brand name or fast talking salespeople!
"Now is the time to get ready for the season, homeowners shouldn't wait 'till they smell smoke", said Brad.
Brad's advice is, "Do your homework get the best for pumps and value", he said. Full information, including a FREE Bushfire Survival Guide is readily available from Aussie Pumps or authorised dealers. aussiepumps.com.au
---
Full information, including a FREE Bushfire Survival Guide is readily available from Aussie Pumps or authorised dealers. aussiepumps.com.au