[vc_row][vc_column width="1/6″ offset="vc_col-lg-1/5 vc_col-md-1/5 vc_col-xs-1/5″][us_image image="82136″ size="thumbnail" align="left" style="circle" has_ratio="1″][/vc_column][vc_column width="1/12″ offset="vc_col-lg-4/5 vc_col-md-4/5 vc_col-xs-4/5″][vc_column_text]By Lawrence Machodo[/vc_column_text][us_post_date][/vc_column][/vc_row][vc_row][vc_column][vc_column_text]Cherrybrook athlete Emily Britton is a name you could see cropping up at Australian and international events if she continues her scorching form in the women's 100m hurdles.
The 21-year-old is hot on the heels of Cherrybrook's Olympian Michelle Jenneke following phenomenal timings this year.
Emily ran a blistering PB of 13.29-second run to finish third at the Maurie Plant meet in Melbourne in February and qualify for the World University Games in Chengdu, China from July 28-August 8.
Emily shaved another 0.11 of a second from this while winning her heat at 13.18 seconds, and then a further 0.09 to run 13.09  to take silver at the NSW Open Track and Field Championship in March. Her performance took her to 12th on the Australian all-time list. Emily moved past Olympian Penny Gillies who was watching from the stands.
Emily ran 13.10 seconds at the Sydney Track Classic, and 13.30 to finish fourth at the Australian Championships in Brisbane in April.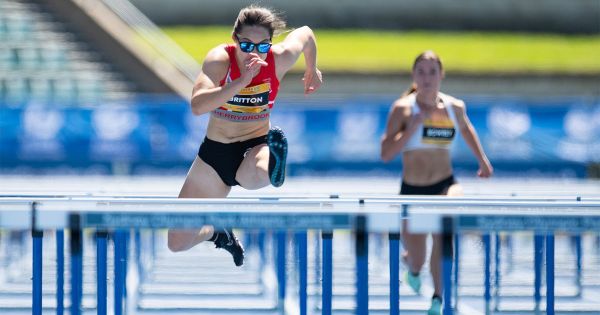 Emily is coming back after two to three years of injury and recovery. "Every race since Melbourne, I've run another World Uni qualifier," she said. "I'd been chasing that qualifying time since last season, so it was great to finally run it.
"I'm feeling pretty good about my form and really happy my body has held up to all the racing this season."
Emily wants to break the 13-second mark and "hopefully running fast enough to make the team for Paris" Olympic Games in 2024.
Emily, who is in her final year studying physiotherapy at Australian Catholic University, has been a Cherrybrook athlete since she was 13. But she has been training with Cherrybrook senior coach Mick Zisti – who also coached Jenneke – since she was 10.
"Apparently I was a very hyperactive child and my parents thought sport would help burn some energy so they started me in Little Athletics in summer and soccer in winter when I was six," Emily said.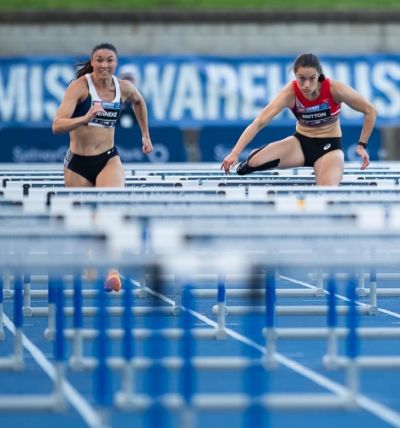 "Winning the National Age Championships in the hurdles when I was 14, was a massive motivation to keep going."

Emily was NSW age champion in 100m hurdles from 2016 to 2019, and won the national title in 2016. She achieved a Youth Olympics qualifying time in 2017.

"I used to be a decent 200m runner when I was a lot younger ….As I got older, I started preferring the 100m sprint and had a lot more success with the hurdles," Emily said.

She is inspired by Olympic champion Sally Pearson, who "really led the way for women's hurdles in Australia" and former Cherrybrook duo Jenneke and Hannah Jones.

"Michelle and Hannah really helped mentor me back then and it was really intimidating to be racing them when I first started in Opens but they help bring out my best race every time I line up next to them," said Emily, who said she has gained a lot from being at the Cherrybrook club.
[/vc_column_text][/vc_column][/vc_row]