John Gadaleta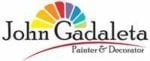 Business Name:
John Gadaleta
Long Business Description:
John Gadaleta commenced painting service in Sydney 45 years ago. These years of experience and knowledge will ensure that you have our expertise and will guarantee a finish which will exceed your expectations.
You always receive friendly and courteous service and respect for your home and your property. All our team are qualified and highly experienced. We always listen to your needs and John will keep you up-to-date throughout the whole project.
Email: [email protected]
Back to the homepage