Glenorie Mission Church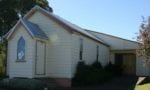 Business Name:
Glenorie Mission Church
Long Business Description:
Glenorie Mission Church is a bible based gathering of Christians. We believe God is The relationship builder and God wants a relationship with You.
Jesus is building His church throughout the world and right here in Glenorie. Glenorie is a great place to be, blessed with the natural beauty of God's creation. It is our prayer (we pray it every week) that God will also bless the people of Glenorie by bringing them into a relationship with Himself. It is through this relationship that all people can truly understand their purpose for being and experience fulfillment in their lives.
We meet every Sunday, 10:15am at the Church. Sunday School for the kids starts at 10:30. Both finish at 11:30am. Come along. Everyone is welcome: if you know nothing of God, or if you have a relationship with God, we would love you to join us as we all learn more and give God glory for his great plan and payment for our lives.
Address: 1409 Old Northern Road, Glenorie NSW 2157