[vc_row][vc_column width="1/6″ offset="vc_col-lg-1/5 vc_col-md-1/5 vc_col-xs-1/5″][us_image image="81825″ size="thumbnail" align="left" style="circle" has_ratio="1″][/vc_column][vc_column width="1/12″ offset="vc_col-lg-4/5 vc_col-md-4/5 vc_col-xs-4/5″][vc_column_text]By Annette Madjarian[/vc_column_text][us_post_date][/vc_column][/vc_row][vc_row][vc_column][vc_column_text]Local unsung heroes were acknowledged for their extraordinary contributions at The Hills Shire Council's recent Australia Day Awards ceremony.
Awards across five categories – Young Citizen of the Year, Community Group of the Year, Senior Citizen of the Year, Environmental Citizen of the Year and Citizen of the Year – were given to individuals, community groups and organisations that had made a positive contribution across the wider Hills district.
The Young Citizen of the Year Award went to SES volunteer Ryan Barton, who is one of the youngest volunteers at age 24 in The Hills SES to hold the rank of Leading Senior Operator. Ryan has volunteered some 1,400 hours since joining Hills SES four years ago. Highly Commended Awards went to Mia Macklin for services to premature babies and Ziyan Tejani for services to mental health and human rights.
The Community Group of the Year Award went to Hills SES. The volunteer-based emergency response organisation contributed more than 17,000 hours of work during 2022, with crews working on three major flood disasters. Highly Commended Awards went to the Positive Vibes Foundation for services to mental health, and Fit Kidz Foundation for services to children with autism and developmental disabilities.
Annangrove resident Elaine White was awarded Environmental Citizen of the Year for her environmental work, including volunteering at the Annangrove Community Environment Centre and with the Cattai Hills Environment Network as part of their platypus DNA project in the Cattai Creek Catchment.
The Senior Citizen of the Year Award went to Rotary Club of Kenthurst Services Director Paul Rapp. In his 16 years with Rotary, Paul has been responsible for major community events, including ANZAC Day ceremonies, Australia Day flag raising events and the Kenthurst Fair. He has helped schools, the Men's Shed, sporting groups, and taken over the maintenance of John Benyon Rotary Park Kenthurst. Patricia Lee (services to midwifery) and Shubha Kumar (services to multiculturalism) received Highly Commended Awards.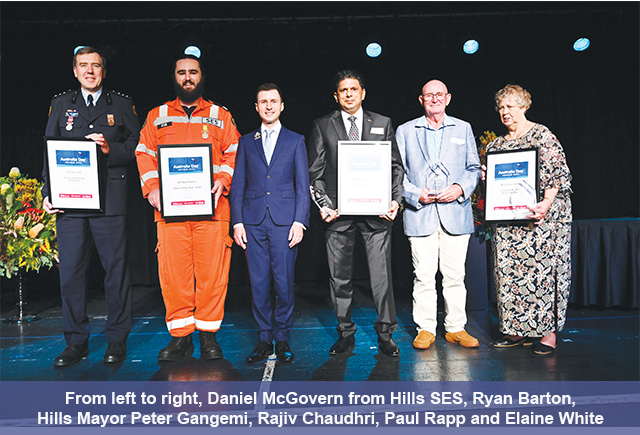 Rouse Hill resident Rajiv Chaudhri won the Citizen of the Year award for his philanthropy work. Rajiv is the President of the Community Foundation of North Western Sydney, a Director of the Lisa Harnum Foundation and a former Chairperson of the Cumberland Community Radio (Alive 90.5 FM). He has raised significant funds for local organisations and charities, and supports victims of domestic violence.
Two special Mayoral Recognition Awards were given to long-time volunteers –Connie Keith, for her work at the Balcombe Heights Estate; and Pratibha Bhanushali, the Founder and President of the Powerful Empowered Women organisation, and Vice President of the Baulkham Hills Lion's Club.
Hills Mayor Peter Gangemi congratulated the award winners and finalists for their exemplary work towards the growth and prosperity of the wider Hills District.
"Our community is better off thanks to these people and groups who donate their time and efforts mainly in a volunteer capacity," he said[/vc_column_text][/vc_column][/vc_row]